Global Kitchen Project
Laurier International's Global Kitchen initiative (Waterloo campus) is an exploration of culture through food. What we consume, how we acquire it, who prepares it, who is at the table, and who eats first all reflect complex relationships and interactions among individuals and the society in which we live. Food is an intrinsic part of one's cultural identity and can serve as a means of understanding, experiencing, and sharing cultures.
The Global Kitchen provides great opportunities for you to network with other students, to gain insight into the variety of cultural backgrounds on campus, and to understand and experience different cultures first hand through food.
Laurier International wishes to recognize the support received from the Student Life Levy to make this project possible.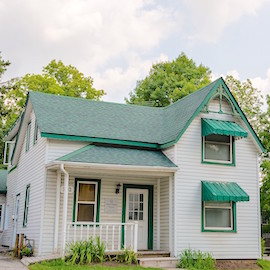 What Happens at The Global Kitchen?
The Global Kitchen is open to the university community to host celebrations and programming. This versatile space provides the Laurier community with a plethora of programs, operating a minimum of 60 days throughout the academic year. Programs are meant to teach students nutrition and culinary skills in order to improve their health and well-being as well as diversify their diets. The following is a list of programs that will be offered at The Global Kitchen:
Culinary Basics: Sessions led by local nutritionists for students on shopping, preparing, and storing food.
The Foods I Eat: Members of the Waterloo Region multicultural community, including members of the Laurier community, will be invited to share their love of food, culture, stories, and share a meal. This will be a ticketed event to cover costs.
Make and Take: Members of Laurier International, the university community, and the greater Waterloo community will invite students to gather together to prepare meals for the week ahead.
Community Lunch: Departments in the university will be invited to provide lunch for those who attend.
Food for Thought: In-depth speaker series on food-related topics.
Friday Night Kitchen Party: Local acoustic artists will be invited for a series of kitchen concerts and potluck dinners.
Cultural Celebrations: Cultural celebrations throughout the year highlighted with food.
Holiday Kitchen Space: During the Christmas break, international students who do not leave the campus will be able to gather for meals.
Teaching Space: Faculty members teaching courses related to food will use the space to teach classes.
Laurier International develops the Global Kitchen programming in partnership with various Laurier and community partners.
Any events open to all students or the general public are posted on Laurier's events calendar.
Where is The Global Kitchen?
The Global Kitchen is a community kitchen for the Laurier community managed by Laurier International and located in the Harris Hope House, Waterloo, the former home of Ron Harris. Harris, a local homeopath, donated the house to the university in 2009 to continue his and his wife's support of the health and well-being of international students. Harris Hope House is the current home for students of Laurier's WUSC-sponsored Student Refugee Program (SRP). The Global Kitchen is meant to provide a friendly, welcoming, and inclusive place for you to go while enjoying your time here at Laurier.
Who Runs The Global Kitchen?
Programming for The Global Kitchen is under the direction and coordination of Laurier International. The Global Kitchen is led by student 'stewards' who are living in Hope Harris House. The stewards help with the maintenance and upkeep of the house, bookings and coordination of events in the kitchen. An advisory committee of university members provides guidance and support to Laurier International to help further optimize the use of the space and to provide additional programming through the Global Kitchen and Harris Hope House.
If you're interested in volunteering at the Global Kitchen, booking the space for events, or participating in programming run out of the Global Kitchen, please contact Rosey Brockett at rbrockett@wlu.ca.
Why Participate in The Global Kitchen?
Contribute to Students' Health and Well-Being
For many of you, cooking on your own – or cooking in Canada – is a new experience and you will need to adjust to new habits and a new dietary regimen here. The Global Kitchen will help you with education on healthy eating habits and cooking strategies in the host culture. This community will also help you find foods from around the world as well as expand your cooking skills.
Meet New People and Celebrate Laurier's Cultural Diversity
Food – and the process of eating – brings friends and family together for conversation and interactions. Sharing food experiences helps create common ground and open up dialogue across cultures, enabling traditions, rituals, and customs to be shared. The community setting of The Global Kitchen will allow you to meet new people, to discuss and share your cultural identity, and to explore various cultural traditions and customs. This helps create a community that embraces and encourages diversity.
Support the Integration of Academic, Personal, and Cultural Development
The Global Kitchen Project's enriching learning environment can be intentionally integrated with your academic studies and success. The space at the Harris Hope House is available to faculty to teach food-related classes and will provide an educational environment where experiential learning will be added to one's academic development.