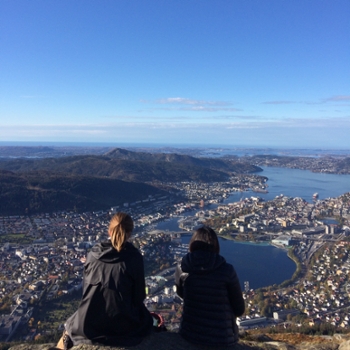 Laurier celebrates International Education Week in Waterloo and Brantford
The full International Education Week schedule is available online and is being updated regularly.
The Laurier community in Waterloo and Brantford are invited to participate in International Education Week (IEW), organized by Laurier International and running from November 12 to 16, 2018. The events, activities and presentations held during IEW showcase the various international and intercultural opportunities available to the Laurier community and the benefits of engaging at an international level.
"Internationalization is a process; intercultural learning is the outcome. International Education Week presents an ideal opportunity for students, faculty and staff to engage in deeper reflection on the learning of international mobility and intercultural interaction," said Ben Yang, Director of Global Engagement at Laurier International.
IEW kicks off in Waterloo on Monday, Nov. 12 with a keynote presentation by Dr. Neil Arya, Scholar-in-Residence with the Faculty of Science. Dr. Arya will discuss the ethics of studying abroad and look at the impacts of international learning on host communities as well as student participants (7:30 – 9 p.m., Arts 1E1).
Laurier International is also pleased to highlight and support programming sponsored by on-campus departments as well as external partners and student groups. "I'm most grateful for the presenters, especially student participants who enthusiastically share their expertise and personal experiences with other students," said Yang. "They are the true champions and the catalysts who advance internationalization at Laurier."
On Wednesday, Nov. 14, the Office of Indigenous Initiatives, Indigenous Studies and Laurier International present The Power of Indigenous Students' International Exchange Experience, a panel discussion that will look at the values, opportunities, impacts and challenges of international education for the Indigenous student (8:30 – 9:50 a.m., SB 106). On Thursday, Nov. 15, Peggy Harvey from CampusFrance will present on the study and work opportunities available in France (noon – 12:50 p.m., Students' Union Boardroom) and International Students Overcoming War (ISOW) are hosting an evening celebrating Middle Eastern culture (7 p.m., Veritas Café).
Food Services is also complementing IEW programming with International Eats, available at the Fresh Food Company each day for lunch, from 11 a.m. to 4 p.m. Enjoy international culinary creations from China, Germany, the Caribbean, France and India.
In Brantford, the keynote event of IEW will happen on Wednesday, Nov. 14 with the Go Abroad Student Panel (4 – 6 p.m., SCJ 127). This panel discussion will bring together students who will share their experiences traveling abroad to diverse countries such as Ghana, Mexico and El Salvador, and the academic, professional and personal benefits of those experiences.
Also in Brantford, the People Make History speaker series is pleased to welcome James Bartleman to campus. Mr. Bartleman, a former Canadian diplomat of 40 years, was Ontario's first Indigenous lieutenant governor and will be speaking and answering questions about his diplomatic career and how you can make a difference in the world diplomatically (7 – 8:30 p.m., CB 206).
IEW wraps up in Waterloo with the Global Kitchen Open House, an opportunity for students, staff and faculty to enjoy crepes while touring this cooking and dining space, which can be booked for events (11:30 a.m. – 2:30 p.m., Hope Harris House, 102 Albert St.). In Brantford, the week ends with the World University Service of Canada (WUSC) bake sale (11 a.m. – 4 p.m., Odeon Lobby), where you can learn how WUSC supports students who are living as refugees and help raise funds for local WUSC committee members to attend the international forum on global development.
Enjoy International Education Week as you discover all the ways you can broaden your horizons!