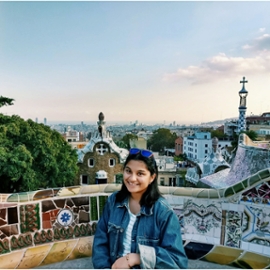 Blessings in disguise: The benefits of a limited budget
Sasha Pereira studied at the Universidad de Deusto in Bilbao, Spain for the Fall 2017 term. She is a BBA student, with an Option in International Business, on the Waterloo campus.
It was the end of August 2017 and I was ready to fly to Bilbao, a small city in northern Spain's Basque country, to begin my semester abroad at the University of Deusto. Ever since my elder cousins had gone on their semesters abroad, I had been dreaming of my own adventure, and now that I was finally in my fourth year in Laurier's BBA program, my time had come at last. Yet, at the airport, my dad took me aside and said, "Remember that you're going to Spain to learn, not have an extended vacation." I just smiled. Of course, I knew that I was going to Spain to study but with so many places in Europe just a short plane ride away, how could I not take the opportunities to travel as much as I could?
Soon after I arrived in Bilbao, I began researching different methods of travel to other European cities and countries. It was then that I realized that my dreams of traveling around Europe were not to be what I had thought. Bilbao, being a small city, was expensive to travel from, whether by plane, train, or bus, and with the prices and options available to me, I realized that I simply could not afford to spend my semester city-hopping on the weekends. Discouraged and frustrated, I began to look up more affordable options.
Fast forward to the present where I have completed my semester abroad, and I couldn't be happier with the way it turned out. It's true, I didn't have the chance to travel to every European city on my bucket list, but I gained something more personally valuable instead. Just as my dad reminded me, I went to Spain to learn, and learn is exactly what I did. I spent half my weekends travelling to other places in Basque country and in Spain, and the other half in Bilbao, spending time with my new friends who were fellow exchange students as well as local students. Through them, I learned so much about Bilbao, the unique culture of Basque country, about Spain, and other places in Europe.
As a student in the international business program, I gained invaluable knowledge of what people, culture, and everyday life is like in many European countries through the eyes of the people I met. It was through this that I realized that I could learn just as much about the world through conversations as I could through sightseeing.
My limited budget had come as a blessing in disguise because it also gave me the opportunity to focus my energies more locally by travelling around Bilbao, Basque country, and the rest of Spain by affordable regional and national busses. After all, how else would I have gotten to meet a cow farmer in a small village called Oma, surrounded by lush green mountains and trees painted in vibrant colours? Or walk through Antoni Gaudí's masterpiece, the Sagrada Familia Basilica in Barcelona? Or visit the Royal Alcázar of Seville and the 1000-year-old church at San Juan de Gaztelugatxe, both filming locations on one of my favourite TV shows, Game of Thrones? Through these experiences, I was able to learn more about the unique people and cultures within Bilbao, in Basque country, and in Spain.
If I were to do this semester all over again, I wouldn't change a thing. The international exchange program gave me this incredibly special opportunity that has changed my life in so many ways – an opportunity that I could scarcely find anywhere else. It was a semester where I truly felt that I learned just as much outside the classroom as I did inside it. So, to my fellow Golden Hawks who may or my not be considering the exchange program, here is my advice: do it! Whether or not you have an interest in travelling, the skills and knowledge you will gain through the study abroad program will be those you will take through life forever.
Even on a limited budget, there are so many opportunities to learn new things, explore places you've never heard of before, and meet people that will become your new best friends. The prospect of leaving your home, family, friends, and everything that is familiar to you for four or eight months is a daunting prospect, but I promise you, it's worth the risk!