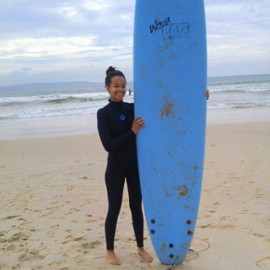 Challenging biases in a global classroom
Eliana Rose studied at the University of Western Sydney, in Sydney, Australia for the Winter 2017 term. She is a fourth-year Community Health Student on the Brantford campus.
I have been interested in international learning opportunities since my final year of high school when a university representative from Laurier introduced me to the idea of studying abroad. After speaking with the representative, I knew that I wanted to travel and see the world. However, it wasn't until I entered university that I discovered studying abroad meant more than just checking famous sights off my bucket list.
In the winter of 2017, I had the life-changing opportunity to spend five months studying in Sydney, Australia. Beyond the things I learned inside the classroom, I was able to use the experiences I had traveling Australia as a new kind of textbook— a global classroom that surpassed what I could have learned from a PowerPoint presentation.
Exchange led me to meet students and travellers from Australia, Finland, Sri Lanka, New Zealand, Thailand, England, Germany, Zambia, Switzerland, and the United States. These experiences not only taught me cross-cultural skills, but also taught me to challenge the biases I held within the scope of my learned knowledge in Canada. It helped me challenge everything I thought I knew about people in other regions of the world. Exchange reinforced the importance of open-mindedness and curiosity as traits that one should strive for as a global citizen.
On a personal level, I gained immense levels of independence and a sense of self-sufficiency as I adapted to an environment where my immediate support systems were thousands of kilometres away. On top of these benefits of exchange, I have now established friendships that stretch to all corners of the world.
I applied for an exchange to Australia to see some beautiful beaches, snorkel the Great Barrier Reef, learn to surf, and travel a part of the world that was thousands of kilometres away from my comfort zone, to prove to myself that I could. However, I returned having gained an enlightened perspective about the world around me, which should be on everyone's bucket list.