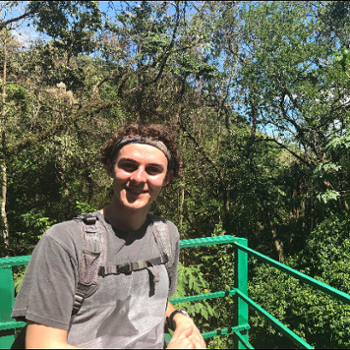 Discovering a holistic learning experience in Costa Rica
In April 2018, Dustin Hope travelled to Costa Rica to participate in International Service Learning in the Costa Rica Alternative Teaching Practicum. He is an Education student on the Waterloo campus.
On April 1, I travelled to Costa Rica for an unforgettable learning experience. I volunteered at the Alturas Wildlife Sanctuary in Dominical for three thrilling weeks. Each day was a new mini-adventure. As volunteers, we learned how to care for, feed, clean, and provide enrichment for all the animals. Some of the animals who were being rehabilitated included monkeys, sloths, coatis, toucans, deer, squirrels, and anteaters, to name just a few.
The first day at the sanctuary included a training session with one of the local volunteers, Bob. He showed us the ropes as he demonstrated how to feed the toucans. "There's a finger there at the back of the cage from the last volunteer who got bit," he joked as the toucan assertively snapped at his hand while he set the cut-up banana and watermelon onto its perch. Then we made the rest of the rounds to our animal friends: a squirrel named Channing Tatum, a kinkajou named Jenny, an anteater named Fergus, and the sloth sisters were among the patients being treated. Each one was receiving a specially prepared plate for a healthy diet and individualized enrichment to keep them mentally stimulated.  
I think it is important to say that I did not identify as an 'animal person' before this experience; however, after three weeks at the sanctuary, I can no longer truthfully say such a thing. Working with animals has provided me with new knowledge of how wildlife care and rehabilitation happens in a rainforest environment and I feel empowered to share this knowledge with others. But beyond a newfound working knowledge of the goings-on at a sanctuary, I believe there is a more important takeaway from my experience.
Volunteering at the animal sanctuary was therapeutic in many ways. One: it revitalizes your soul. Spending the bulk of the day outside breathing in the fresh air under the dappled shade of palm tress while collecting leaves, transferring toucans or placing a hibiscus flower beside a sleepy sloth, it all feels like an exercise in relaxation. Two: days spent working with animals creates an overwhelming sense of empathy. Many of the animals have been tragically injured and as volunteers, we learn to try our best to make their time at the sanctuary as minimally intrusive as possible. Three: it warms your heart. When you see a baby sloth and baby deer gingerly touch noses while they investigate one another's scent… well, I challenge you not to smile and go "aww." I can now say I am an animal person.
In addition to the day-to-day tasks at the sanctuary, there were also a diverse range of other opportunities in nearby communities. For example, I assisted the sanctuary's educational outreach worker at three different schools doing presentations about the sanctuary. The outreach worker's aim is to educate elementary students about the animals that live in their communities and how to take action if they see an animal who is hurt. I assisted by helping with the set-up and take-down as well as working individually with small groups during interactive sessions. It is very meaningful work and each session was delivered with such passion that it always captured the audience. My favourite part of this was when students would tell personal stories about when an anteater wandered into their schoolyard or an iguana ran up their driveway at home.   
I also had the opportunity to go tree planting with our group from the sanctuary. We travelled about an hour by car to a rural area. There, we met Tree Jenny—a firecracker of energy! She founded a tree planting organization in Costa Rica that pays people a living wage to plant trees and then take care of them for the following 25 years. This includes monitoring and reporting on tree health, and requires the stewards to replant the trees that die. We were lucky enough to spend two hours casually chatting with Jenny and listening to her stories. As we sat around a huge pile of dirt, we delicately transplanted small tree saplings to larger individual bags. We listened to Jenny as she told us about her journey from being a lawyer in the U.S. to moving to Costa Rica in the 70s and eventually creating the NGO Community Carbon Trees. (Look it up, I promise it's worthwhile.) Jenny is an inspiring environmental leader and I will not forget my afternoon spent with her.
These stories are just a few of many from my three weeks in Costa Rica. The collection of these stories has enhanced many of the theoretical components from my program of study. I have tangible takeaways that I will be able to fold into my teaching practice, whether it be in a geography lesson about biodiversity in the rain forest or a social studies inquiry activity on animal rights in other countries. Over and above these aspects, I believe that travelling renews our relationship with humanity and my experience will have many unmeasurable benefits to my teaching practice.  
Travelling abroad this April gave me a holistic learning experience that cannot be replicated at home. I encourage everyone to travel during their university studies because, as many have said before me, you'll never regret it!