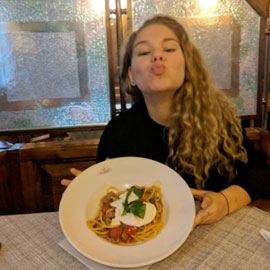 Plan ahead but live in the moment
Nicole Sorkin studied at the Universitá Carlo Cattaneo in Castellanza, Italy for the Fall 2017 term. She is a BBA student on the Waterloo campus.
Imagine being able to roll out of bed and walk down the street to one of several family owned bakeries to enjoy a warm chocolate croissant paired with the perfect cappuccino in the morning. Enjoying the locals' routines is an experience I couldn't replicate at home. My time in Italy has been an experience I will never forget and something I will look back at time and time again. Throughout my stay I have met people from all over the world, got to visit places I've only ever dreamed of going to, and learned how to live in the moment. Here are some tips I wish I knew before going on my exchange to LIUC Carlo Cattaneo in Castellanza, Italy.   
Living in a Small Town can be Good
When choosing an exchange school, I was set on living in a metropolitan area surrounded by the hustle and bustle that big cities offer. Places like London, Sydney, and Milan came to mind. However, living in a small city has allowed me to explore what my region and country are truly like outside of the touristic centre. I am able to enjoy food as the locals do, know my town like the back of my hand, and I feel safe walking the streets at night, even if my phone dies. Plus, it's nice to know that I'm only a 40-minute train ride from the city where I want to go shopping or go to a top-rated event, like Milan Fashion Week. Being able to have the best of both worlds allows me to understand the country that I have fallen in love with as well as enjoying the atmosphere of the fashion capital Milan, Italy.
Plan Ahead
Making a list of places you want to visit before you go on exchange ensures that you can see some awesome cities as well as plan the time you have in your own town. Plus, the further out you purchase tickets the cheaper they are. I bought train tickets to Venice three weeks out, accidentally missed by train and had to pay three times the price for a train leaving in a couple hours. Of course, you can't always control what happens but if you know there is somewhere you want to go try to make plans ahead of time. This way you can ensure that you actually get to visit the city and that you can find affordable transportation and accommodation.
Document your Travels
Going on exchange is a once-in-a-lifetime experience, so make sure you have things that remind you of your memories. Some examples including getting a postcard from every city you visit, writing in a journal, or just taking lots of pictures and videos. Whatever you choose, you will have those memories to look back at when you get home. Personally, I tried to save a train ticket from most of the places I visited as it has the date and the city that I went to, making it easy to remember when I went and what I did…and of course I also took lots of pictures.
For me, travelling was a highlight of my exchange. Living in the heart of Europe gave me easy access to visiting new places, an opportunity I couldn't pass up. However, it's important to understand what you want from your exchange and to follow your heart. Living in a new country and even continent is a once in a lifetime opportunity; enjoy every second.