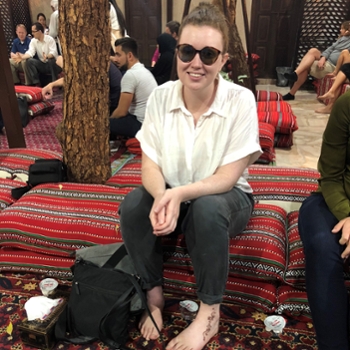 Seeking accessibility in the Middle East
Hillary Scanlon is a third-year Global Studies student, with a minor in Arabic and an option in Social Entrepreneurship, on the Waterloo campus. In May and June 2018, she participated in a Global Studies Experience in the Middle East. 
On April 30, 2018, I departed for my month-long adventure in the Middle East. I was travelling to the United Arab Emirates (UAE) and to Oman to complete the international component of my Global Studies Experience (GSE).
Unlike my peers who were also completing their GSE this summer, and to those who have completed it in previous years, my GSE was structured somewhat uniquely. In 2016, my vision unexpectedly deteriorated to the point of legal blindness. This experience thrust me into a world which was no longer accessible to me; however, this experience also left me with more drive and determination than ever to succeed in whatever I chose to do in life. I did not want my lack of sight to stop me, so I continued with my full-time course load in Global Studies, with a Minor in Arabic, and an Option in Social Entrepreneurship.
With this information in mind, I was determined to complete the GSE in an Arabic-speaking country and, perhaps, on a topic related to accessibility. However, I quickly discovered that, similar to Canada, countries in the Middle East and around the world were unsure of how to accommodate a person with a disability in a workplace setting. So, after speaking with my friends, and after getting approval from my professor, I decided to travel to the UAE and to Oman independently to observe, engage, and document my experiences and perceptions with disability and accessibility in Middle Eastern and Islamic cultures.
Below, I have described some of the perceptions and experiences that I had while travelling in each city. I have also noted the highlights from each of these locations. 
Abu Dhabi, United Arab Emirates
Abu Dhabi provided me with an interesting first look into a city in a Middle Eastern country. While the city is located in a country whose national religion is Islam, and where the call to prayer rings through the city five times a day, Abu Dhabi is an incredibly diverse city and society. Only 20% of their population is comprised of UAE Nationals. This allowed me a unique opportunity to interact with people of numerous backgrounds and nationalities, the majority of which were from other countries in the region such as Bahrain, Pakistan, India, etc.
The accessibility in Abu Dhabi was better than I had originally anticipated. One of the first things I noticed in the first few days was the prevalence of ramps at places that were open to the public. Although I am unsure if these ramps met the incline requirements, it was nice to observe that they recognized the benefits of incorporating this into their infrastructure.
Some of my favourite experiences and opportunities in Abu Dhabi included:
Visiting the magnificent Sheikh Zayed Grand Mosque.
Traveling to the desert and having a traditional Emirati meal.
Visiting the Louvre Abu Dhabi. This location was by far the most accessible place that I encountered over the course of my entire visit. I was very impressed by the numerous accessibility features of the museum, including tactile replications of various sculptures (so that people who are blind could feel and "see" the artwork).
Dubai, United Arab Emirates
I was especially excited and intrigued to visit Dubai due to their government's claim that it was to be the most accessible city in the world by 2020. This was a bold statement, but I was curious to see how it actually played out through their services, infrastructure, etc. When I arrived in Dubai, I was quickly disappointed by the accessibility of the city streets. The sidewalks were not continuous, making it difficult and dangerous for myself, a person with a visual impairment, and those with other mobility impairments to travel independently. This and several other aspects of the city indicated how far they still have to go to make their society and environment accessible.
To give them some credit, I was extremely pleased with the accessibility of their metro system. Each station had tactile walking surface indicators (TWSIs) to guide people who are blind and visually impaired. They also had elevators at each location with tactile buttons, as well as audio indicators to let individuals know which floor they are arriving at.
The extraordinary accessibility of the metro leads me to believe that Dubai is well on their way to making their society and environment accessible for people with disabilities, but I do not believe that this will be accomplished to the extent that they are claiming in less than two years.
Some of my favourite experiences and opportunities in Dubai included:
Learning about Social Entrepreneurship in the Middle East through a meeting with We Grow with C3, an organization devoted to assisting social entrepreneurs realize and grow their ventures.
Visiting the Dubai Fountain and Burj Khalifa (the tallest building in the world).
Traveling to the Gold and Textile Souks (markets).
Attending an Iftar (breaking of the fast) for Ramadan at the Sheikh Mohammed Centre for Cultural Understanding.
Muscat, Oman
Muscat, Oman was by far my favourite place out of the three cities I visited. What it lacked in infrastructure compared to the UAE it made up for in their overwhelming demonstrations of genuine hospitality, interest, and compassion.
My experience in Oman provided me with an excellent opportunity to engage with the local culture and religion of Islam. Part of my interest in traveling to the Middle East derives from my fascination and disgust with the ways in which western media portrays Islamic cultures. In Canada, we are privileged to live in a multicultural society with laws that are meant to deter hate and discrimination based on groups' identities.
However, it is clear that this has not prevented the irrational persecution of Muslims or people of colour. I mention this because I believe that if every Canadian and every citizen of other Western societies took the time to engage with the Islam and to interact with the billions of individuals who comprise this religion, they would be in awe of its beauty and its similarity to their own beliefs and values.
In several of the conversations that I had with locals in Oman, they indicated how happy they were to talk about their religion and culture, as they are painfully aware of the ways in which they are portrayed in western media.
People are often terrified of what they do not know or do not understand. To overcome this fear or anxiety, it is crucial for each and every one of us to open our hearts and minds. The people of Oman practice this with every tourist, expatriate, and visitor who comes into their country. It is time that the rest of the world followed suit.
Some of my favourite experiences and opportunities in Oman included:
Attending "TAARUF3: A Social Gathering for Introducing Islam to People of Other Faiths." This incredible event was held at the Oman Convention and Exhibition Centre, and consisted of an Iftar (the breaking of the fast during Ramadan), music, conversations, etc.
Completing a 45-minute hike to the Wadi Shab, and swimming in its natural pools.
Travelling to a small fishing village and having a traditional Omani Iftar with a local family.
For more information and/or pictures of my travels in the UAE and in Oman, please feel free to visit my blog, Visually Empowered.
Read more about Hillary's efforts to make campus recycling more accessible to people with vision loss.