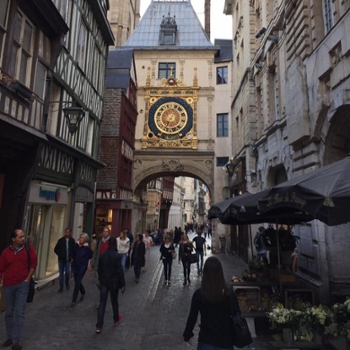 While on exchange, remember to explore close to home
Kezia Ramalho studied at the Neoma Business School, Rouen Campus in Rouen, France. She is a BBA student, with an Option in Marketing, on the Waterloo campus.
Choosing to study aboard has been the best life decision I have made yet. I am so thankful I was given this opportunity and am eager to share my stories and advice with fellow Golden Hawks.
Over the past four months I attended Neoma Business School in Rouen, France. Throughout my exchange I was able to travel to 12 different countries and 23 cities where I explored various cultures.
I remember the first day I arrived in Rouen and got settled into my dorm room, feeling scared and alone. Little did I know that four months later I would be sad to say goodbye to my 9x6 metre dorm room.  Living and studying in France was definitely a large adjustment, as I had to get used to the cultural differences, food and language. Living on residence was a great decision as it introduced me to other students studying abroad and was a great way to meet new people. Also, knowing that all my neighbours were in the same boat as me was a relief and made me feel more comfortable.
Having the opportunity to travel in between classes was one of the highlights of my exchange. However, that being said, I do think it is important to spend time getting to know the ins and outs of your city. The days I spent in Rouen really made me appreciate my exchange more and allowed me to dive into the culture and feel at home. 
My favourite trip I went on while studying abroad was a group trip I took to Morocco. It was vastly different from the other European countries I had been to and was a huge culture shock. It was a beautiful country and I found the history and cultural differences very interesting. The landscape was also breathtaking and very different from our previous trips.
During the trip we were able to climb mountaintops, explore many Berber villages, try new cuisine, and see many interesting markets. My favourite part was travelling across the country to the Sahara Desert where we then rode camels to our campsite in the desert, where we stayed the night.
They offered us traditional dishes, music and taught us dances, which we then performed around the campfire under the desert sky. In the morning we woke early to watch the sunrise and ride the camels back to the village.
It was an amazing experience that I will never forget.
If I could do it all over again there is no doubt I would, but there are a few tips I would give myself so that I could be better prepared. First, I would try and get more involved with my school abroad so that I could have met more students that were actually from France, and broaden my overall school experience.
I would also suggest meeting with your groups in person whenever possible, even for short meetings so that there is no discrepancy and everyone is clear with what has to be done. Working with various exchange students means that there are a lot of language barriers to overcome, and communication can get lost with online messaging.
The last tip I would advise is to act on every opportunity given to you and not to let a day go to waste. Everyday is a new experience whether you're travelling, spending the day in your city or going to class.