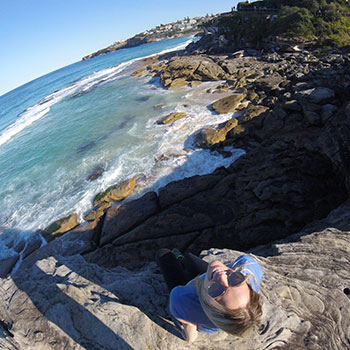 Building career opportunities and new friendships
Johnie Van Happen studied at Western Sydney University in Sydney, Australia for the fall 2017 term. She is a social work student on the Brantford campus.
Studying abroad has been one of the most amazing experiences of my life. I'm in my final year of my Bachelors of Social Work and I wanted to make the best of it. After hearing that social work students now had the option to do a semester abroad in Australia I couldn't turn it down. I was eager to meet new people and engage in different things I haven't done before.
I have always been one for travelling and this experience was the perfect way to do just that. I decided to live in the village so I could meet students attending Western Sydney University. Since I was only doing a placement there, I figured staying at the village was my best chance at meeting students. At first it seemed challenging to meet people because the village was in the transition of students leaving to go home from their exchange and students coming to start their exchange.
Once the first few weeks went by it became easier to engage with other students at the village events. Every Wednesday night the village hosted a BBQ, which is paid for in your rent at the beginning. The village also hosted different events such as Sunday Funday, karaoke nights, Game of Thrones nights, and pizza nights at the beginning of every month. All of the different events make it easy to meet people in the village.
While doing my placement abroad I had the opportunity to work with an organization called Operation Hope. My supervisor was nothing short of amazing and made my experience in Australia even more amazing. I had the chance to work with at-risk youth while on placement and learned a lot through Operation Hope. The Parramatta South Campus of Western Sydney University is beautiful, especially by the river.
Living in a 14-hour time difference zone, compared to home, was an extremely interesting experience which took time to get used to. At first the jet leg took me about a week to get over and then it took me a good month to get use to the fact that all of my family and friends were going to sleep when I was just waking up, and vice versa. After about a month I was finally able to coordinate different times to talk to family and friends from home.
The thing I missed the most about home was pizza. The pizza was good there but it certainly couldn't compare to Canadian pizza. After first arriving I was told an important way to save money was to go to Kmart. Kmart has many different things, whether its clothes, shoes, hygiene products, pots and pans, bedding, or even dishes.
Two of the absolute best parts of my exchange were meeting people from all over the world and travelling. I could get decently priced trips from Sydney to Melbourne, Gold Coast, Brisbane, etc. Also keep in mind there are a total of 10,685 beaches in Australia. I certainly was not able to go to all of them but the ones I did see were absolutely stunning and I couldn't seem to get enough of them.