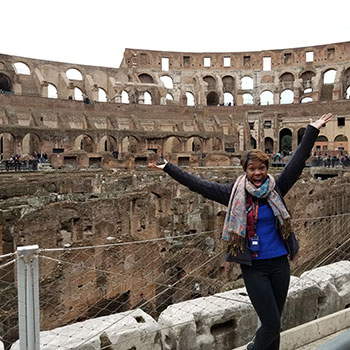 Not perfect, but worth it: The good and bad of student exchange
Marissa Knight studied at the Université Paris-Dauphine in Paris, France for the fall 2017 term. She is a Contemporary Studies student, with a minor in Psychology and Youth and Children, on the Brantford campus.
Over the past four months, I have been bombarded with an immense amount of opportunities to enhance my personal growth, develop a strong understanding of myself, and endure traditions and daily practices of other cultures. My decision to study in Paris, France was primarily due to my eagerness to learn the French language. But little did I know that the rest of Europe would be welcoming me with open arms as well.
From the highlands of Scotland, to the colourful faces and fabrics in Morocco, I was able to see many UNESCO World Heritage sites and meet tons of friends from around the continent. If anyone asked me how my exchange was, I would, without hesitation, say it was one of the best experiences of my life. Although, it is very easy to skip the challenges, of which there were many. If I were to go again, there are various tips that I would keep in mind and wish someone would have shared with me. The following are in no particular order, and come solely from my opinions after taking on these experiences.
Expect and Embrace the Change that Comes
When thrown into an entirely different culture, there will be drastic changes around you. The buildings may be different, the people, their mannerisms, and the food as well. But you will also see change within yourself. That change may be scary, but once you accept it, it will be the most beautiful and unexpected occurrence throughout your time abroad.
Funds Will Easily Escape You; Be Cautious with Every Choice
When you are having the time of your life, it will be easy to go from $100 to $10. But it is possible to spend wisely, and still experience more than you think. Be careful of the currency exchanges, tourist traps, and cultural differences. Remember that reviews are there to help you when it comes to locations, safety, tours, and accommodation. I did much travel alone and had the same decisions to make. Hostels are not scary after all, but choose wisely.
Kill 'Em with Kindness
Travelling as a minority comes with its own challenges. If someone is staring at you like you're a foreigner, it is probably because you are. If someone is staring at you like you're an alien, it is probably because your kind is unknown to them. Your features, your tones, and your beauty are being newly discovered. So shoot them a smile instead of a reciprocal glare. Why? Because these wonders are served best with kindness and acceptance as side dishes.
Want History in the Walls? Go to Europe. Want history in the Land? Go to Morocco
While travelling you will find that each country will have something especially unique to offer. Remember to (cautiously) embrace your surroundings and appreciate the differences in those around you. Don't be afraid to live like a local! While eating a baguette and walking through European streets, I noticed that the walls spoke their own histories. The art, music, and architecture in Europe spoke for itself. Whereas drinking Moroccan tea in a Berber camp in the middle of the Saharan desert, I learned what it's like to grow up as a nomad where stars shine brighter than street lights. I cherish each moment from every travel opportunity and hope you do too.
If the Choice is to Sleep or to Go, then Go… 95% of the Time
The other 5% of the time is easy to miss because that counts for the moments when we need to stop and take care of ourselves. It was my last evening in Rome when I found myself very fatigued and on the verge of a cold. I wanted so badly to see the Colosseum one last time, but I had to remind myself that the city will always be there. Sleep is what I needed and it was time to take care of my body. Travelling is fun but it can be tiring. I cannot stress enough how important your health and wellness is.
It Won't be Perfect but it will be Worth it
There were times when I cried, wanted to come home, and felt like I couldn't do it on my own. But looking back, I am able to see how strong I had been and I surprise myself with all I have accomplished. I could not imagine the mental, emotional, and physical growth without participating in Laurier's Student Exchange Program.