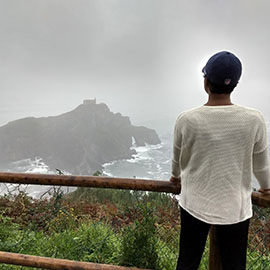 Packing 101: How to never over-pack again
Donnique Williams studied at the Universidad de Deusto in Bilbao, Spain for the Fall 2017 term. She is an English & Global Studies student on the Waterloo campus.
Use the capsule wardrobe packing technique to hack your packing for exchange and travelling!
Less is more. I know you've heard it before. But if you're thinking of taking a four- or even an eight- month exchange, you will learn quickly that your airline's luggage allowance is insufficient to handle everything you THINK you need.
This is where minimalist packing comes in. Minimalist packing is just a hipster-y way of saying less is more when it comes to travel. Carrying less means avoiding the baggage carousel after a long flight or dragging a suitcase down cobble-stone streets to the chagrin of everyone you pass. Minimalist packing saves you time getting dressed, getting there and money in additional airline baggage and unexpected overweight fees.
Here is one of the most valuable packing techniques I used on my exchange, whether you are packing for your big move or the inevitable little adventures along the way.
Capsule Wardrobe
What takes up the most space in a suitcase or backpack on a trip? Your clothes. The problem I always have when I finish a trip is that I realize how many things I brought "just in case" but I never used. The capsule wardrobe method solves this problem. This technique is often used to simplify your current wardrobe but I used it to hack packing, get dressed and live my life everyday on exchange, from school and travel to nights out and special occasions.
The premise is simple: pack only clothes that can be layered, mixed and matched easily. Sounds simple, right? The problem is that we think we do this already, but it requires a bit more thought to do it effectively without over-packing.
First, go through all your clothes and pick out those things you wear most often, your favourites. You are more likely to wear these just as often when you're away as you do at home since they make you feel the most comfortable. While you're doing this, keep in mind what will fit the activities you'll be doing. I knew I would go to a beach or two in Spain, so I brought a bikini, but I also knew that it rained in the winter so I made a point to bring my thinnest raincoat which I layered over a sweater when it got chilly. At the end of this step, you will have a lot of clothes. Don't fear, most will not survive.
The next steps narrow your wardrobe down. The "capsule" part of this technique means you only bring a set number of pieces that fit a colour scheme of three to four colours. This ensures that ALL of your outfits mix and match, simplifying getting dressed in the mornings, dressing for any occasion and packing for your travels. I chose 15 shirts, four pairs of pants, three pairs of shoes, two dresses, etc. The number doesn't really matter, as long as it is reasonable. The key here is to set a number and stick to it, limiting yourself from over-packing from the very start. Remember, you have access to laundry services; you will not run out of clothing!
As for the colour scheme, it's more like a guideline for mixing and matching easily. And it doesn't have to be fashion forward, I chose black, white, and pink (the most popular colours in my wardrobe with a couple of exceptions) and I had a disciplined friend help me narrow things down so that I didn't cheat and bring something completely out of the colour scheme or stuff five more shirts inside my suitcase.
The key to this method is discipline and a recognition of need. Once you narrow down the things you enjoy wearing, you will easily find a colour scheme that you like. From there, you keep within your set number of items and voila! I promise, as strange as it sounds, this method works and made my life so much easier, every single day. I didn't have to think about what to wear each morning because everything I brought with me I loved wearing and worked seamlessly with everything else.
Donnique recommends the Tortuga Backpack blog and Anuschka Rees Wardrobe Revamp for more tips and tricks on the capsule wardrobe technique.