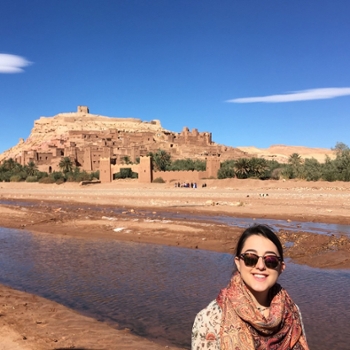 Making dreams a reality while on exchange
Klevisa Berberi studied at Kedge Business School in France for the Fall 2017 semester. She is a BBA student, with an Option in Accounting and a Minor in French, on the Waterloo campus.
Marseille was definitely not Waterloo. During our orientation, they told the Canadian students (since Canadians are a polite breed) to avoid eye contact and not smile politely at strangers. It was a little difficult to adjust to the culture. I'll admit, the first two weeks were rough. I missed my family, my friends and, most importantly, home-cooked meals.
But I adapted and, more importantly, I travelled. I scheduled my courses Monday to Wednesday which left me four whole days for adventure. During the first month, I explored the South of France. A few friends and I visited Cassis, Aix En Provence, Nice and Monaco. Nice was nice, but Monaco stole my heart, maybe because of all the expensive cars and giant yachts. Though that day in Monaco was probably 28 degrees and sunny, which we were not prepared for.
The nice thing about the South of France is that it's completely normal to go swimming in the nude. Once we were done sightseeing, we decided to go for a dip, sans swimsuit, and it was an amazing experience. We felt crazy, but when we looked around, everyone was doing it. It was a little thrill that I'll cherish for the rest of my life.
I didn't believe previous exchange students when they said how cheap it is to travel in Europe, but when organized properly it really is. Every weekend I was traveling to a new country. I think it's important to understand what you want to get out of your exchange. I wanted to experience as much of Europe as possible, to not only visit places, but see museums, art exhibits, local shops; I wanted the whole cultural experience.
My traveling did make it difficult to strengthen new friendships, but that was a consequence I was willing to accept. Bargaining for souvenirs on La Rambla, hiking alongside a mountain in Cinque Terre, taking a selfie with the Mona Lisa; these are memories that I don't think I would've had a chance to make had I not gone on exchange.
My favorite adventure, without a doubt, was visiting Switzerland. It has always been my dream to move to Switzerland. I was dying to visit it but there were no buses, and flights were way too expensive. Then one day, when I thought all hope was lost, I found a €100 round-trip bus ticket to Bern. I didn't even think twice; my friend and I were off.
Bern was beautiful, but Spiez made all my dreams into reality. Spiez was a small town, with classical architecture, a lake and the Swiss Alps. I'm not ashamed to say that when I first saw the Swiss Alps I teared up a little bit. Later, we went to Interlaken where it was time to paraglide. I am deathly afraid of heights, but, as we were flying in the air, making sharp turns, I felt like I was on top of the world. The fact that I was overcoming a fear made the trip that much better.
Afterwards, I treated myself to some Swiss chocolate. While in Bern, our Airbnb did not have Wi-Fi. In the mornings, we'd go to Starbucks to let our parents know we were alive and well, and to search for some activities to do for the day but then we were on our own. It was nice not being on our phones all day. It's the little things that make the most impact on how you experience something. My trip to Switzerland only confirmed that I do in fact want to move there. And as soon as I got back to Marseille I began applying for jobs in Zurich.
Exchange has shown me how to have fun. Usually my version of fun is working. I like to work, to make money to then invest it. As riveting as my hobbies are, they don't compare to what I've seen and done abroad. I hope to find myself lost in Europe again someday.