Opportunities Abroad
Embark on a once-in-a-lifetime adventure by venturing beyond your comfort zones and studying abroad. Explore opportunities to go abroad and enhance your academic experience. 
Your experience abroad can be: 
To destinations such as Asia, Australia, the Americas, Africa and Europe. 
To travel independently or with a group. 
Stay as short as one week or as long as one to two semesters.
Extracurricular (such as volunteering) or curricular (where you can earn credits towards your Laurier degree) exchanges. 
Go Abroad!
We have a selection of opportunities abroad for you to explore. 
Outbound Exchanges
Our exchange program is a curricular program allowing you to study abroad for a term or a full academic year at one of our partner institutions around the world. 
Summer Exchanges
If you're looking for a shorter exchange opportunity during May to August, look into summer exchange or cultural opportunities.
Faculty-Led Programs
You and your classmates can take what you've learned in the classroom abroad by enrolling in a field course with a travel component. You will be taught by a Laurier instructor and receive a Laurier credit.
Internships
Internships abroad not only provide you with an opportunity to travel but also the potential to earn your trip. 
Volunteering
Immerse yourself in cultural experiences while you get involved and give back to communities around the world by volunteering abroad.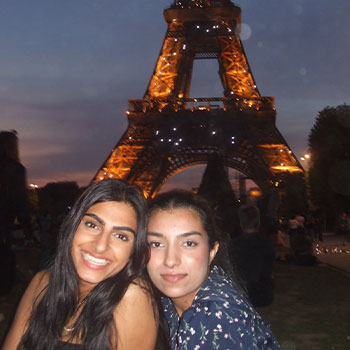 "I would recommend exchange to every Laurier student because it is truly a life-changing experience!
Stepping outside of my comfort zone forced me to grow by immersing myself in a completely different culture, I got to make friends with people from all over the world, and we will always remember the amazing adventures we had together."
Sehar Durrani
Access My World Abroad
Expert advice is available to anyone considering going abroad to study, volunteer, intern, teach, travel or work. You can learn about countries abroad and start building your global career skills before you travel.
Register for free access to MyWorldAbroad online with your Laurier email address (@mylaurier or @wlu.ca). Alumni seeking access to MyWorldAbroad can email Katherine St. Louis at kstlouis@wlu.ca with an alternate non-Laurier email address to be granted access.