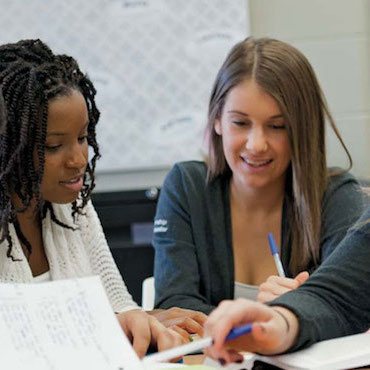 Tips and best practices for note takers
Note Taking Best Practices
Always be prepared for your lecture. Think about note-taking as a three-part process: what you do before, during, and after class can have a great impact on the quality of your notes.
Before Class
Come prepared for the lecture so you know the topic and what is going to be discussed:
Complete the readings.
Skim over previous notes.
Review and download any slides posted by the professor in advance.
Review the syllabus.
During Class
Pay attention to the details and be sure to record:
Anything written on the board.
Any information that is repeated or emphasized.
Numbered or listed items.
New terms and definitions.
Examples.
After Class
Once class is finished, always review your notes:
Fill in any missing information.
Expand on key points, as remembered.
Check and correct spelling and grammar.
Tips and Tricks
Tips from the Accessible Learning Centre
Sit at the front of the classroom.
If you are unsure of spelling, use "sp?" and check it/correct it later.
Be an active participant and ask questions.
Expand/elaborate on key points.
Make friends so you can get missed notes.
Eliminate distractions, such as the internet, while note-taking.
Tips from Previous Note Takers
Read over your notes before posting.
Good time management is key and make sure to spell check!
Set an alarm/reminder to post your notes at the end of the week and pay attention in class (this helps both you and the note-receiver!).
Reduce distractions.
Keep notes clearly labelled and organized.
Have a backup if you cannot attend class.
Take notes the way you want to take notes and recognize the small (but awesome) difference you're making on campus.
Ask for clarification if you are unsure of something; talk to the professor.
Take Advantage of PowerPoint Slides
If the professor posts slides in advance of the class, you can easily use these to help with your note taking. There are many ways to add your notes to PowerPoint presentations, and you are welcome to try any of them:
Add notes in the notes section;
Type directly on the slide; or
Convert to an outline and add your notes to a Word document.