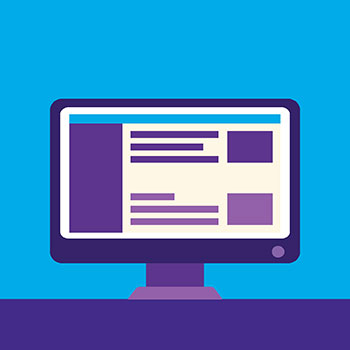 Preparing for online and take-home exams
Set yourself up for success. Review the reminders, tips and resources below to help you prepare for online and take-home exams in the most productive and efficient ways possible!
Be sure to also check out our Preparation Checklist for Online Exams.
Get to Know Your Exams
Not all online or take-home exams are created equal! While you may be writing three to five exams over the next few weeks, each one will have its own set of unique requirements. One exam may use Respondus LockDown and Monitor, which restricts the use of any materials or resources, while the others may allow you to make use of your notes during the exam. You may have two weeks to complete one take-home exam and only three days for another.
Much like preparing for other styles of exams, the first thing you need to do is confirm all the details. For each exam, make sure you know the following information:
Timing: when, where and how long do you have to complete the exam?
Requirements: what technology will you be using and how long should your responses be?
Content: is your exam cumulative and what content will be covered or included?
If you aren't sure of any of these answers, contact your professors for more details, but remember, they may still be figuring out some details as well.
Plan Your Study Schedule
Calendars, to-do lists and daily goals, oh my! If you have a process for scheduling your time that's working for you, just keep going. If not, you may need to step up your time management game.
Start small by making a list of two or three things that you need to complete each day and build up to creating a weekly schedule. This will ensure you have time set aside to review each topic for every course. Review the time management resources available online and keep the following best practices in mind:
Switch between topics regularly (interleaving) to maximize your efficiency and study for multiple courses every day.
Give yourself enough time to study effectively by starting early (spaced practice).
Avoid procrastination by having a plan for each day (for more strategies, review the time management resources).
Study Effectively
Time to get active! Just like studying for in-person exams, using active study strategies will make the best use of your study time. Active studying means moving beyond re-reading and re-writing notes to challenge your understanding of the material.
Active study strategies include:
Moving beyond the definition. Instead of just memorizing, can you also explain concepts in your own words, or even better, teach them to someone else?
Finding connections. Create a mind map, reorganize concepts into charts or diagrams and study similar concepts together to note similarities and differences.
Anticipating questions and thinking like your professor. At the end of each section, consider what questions you would ask if you were creating the exam.
Testing your recall. Take mock tests, answer chapter questions, write practice essays or simply grab a blank piece of paper and start writing down everything you remember.
As long as you are engaging with your course content, you are studying actively! Find strategies that work for you and your course material. Review more active study resources and remember, the harder you work while studying the material, the better you will retain the information.
Not sure if your study methods would be considered active studying? Book a study skills appointment to review your study strategies.
Test Your Tech and Prepare Your Space
Testing, testing, 1, 2, 3... is this thing on? Even if you've used the required technology before, it's essential that you take the time to test it again close to the time of your online exam. If you need to use the Respondus LockDown browser, complete the "Respondus Practice Test" in MyLearningSpace (found in Self Registration). Make sure to test on the computer you're going to complete your exam on. Will you need a webcam? Test that too! Here are some other factors to consider when preparing your technology and exam space:
How is the internet connection? Test your technology 24 hours before your exam to ensure you have adequate internet connection at that time of day. Communicate with others who are sharing the network and let them know that you need optimum connection. Ask them, if possible, to reduce their internet use during your exam time.
If you're submitting a take-home exam online, don't wait until the last minute to upload and submit it as there may be technical issues.
Where will you be completing your exam? Take a look around: are there visual distractions on the wall, outside the window, or nearby? Clear off your workspace and set up only the essential materials you'll need to complete your exam (i.e., if permitted: pen, pencil, calculator, scrap paper, water bottle, etc.)
Don't forget to remind your roommates or family members when your exams are, so you won't be interrupted. A strategically placed door sign can go a long way to ensuring that you can devote your full attention to your exam questions and not when dinner is going to be ready.
Test Taking Strategies
The most important thing you can do when writing an exam (whether it's a take-home exam or an online exam) is read carefully.
Start by reading the directions. These are the final instructions from your professor. Don't skip the chance to learn what insights your professor has about how to complete the exam.
Next, read the questions slowly and carefully. Make sure you know what the questions are actually asking before you start answering.
After reading the instructions, give yourself a confidence boost by doing a quick preview of the exam questions and answer any of the questions that you know right away. If you are writing a take-home exam, start by making a quick outline or concept map to think about everything you know about the topic(s).
Finally, don't forget to watch your time. If your exam is timed, make sure you know how much time you'll have for each question. You don't want to have to rush through your final questions because you spent too much time on the first few answers. If you have a longer timeline, make sure you finish early to give yourself time to review and edit before submitting.
Manage Your Stress
Exams are tough and can be made more challenging if you are stressed, but a bit of stress can actually help you (it's true)! Managing your stress, leading up to and during your exams, will positively impact your exam performance. Curious about some helpful ways to manage your stress? Check out How to Beat Test Anxiety and Take on Exams Without Stress and connect with Wellness Education online.
We've also got you covered here:
Reframe your mindset around stress. It's actually your body's positive response to prepare you for a challenge. Challenge accepted!
Keep it in perspective. You are enough, and your marks do not define you!
Practice positive self-talk. Say "I've got this." Everybody knows you've got the magic in you.
Get organized. List all of your tasks and schedule your time leading up to your exam.
Keep a regular schedule. Structured routines can help you avoid feeling overwhelmed.
Maintain consistent sleep patterns. Try to go to bed and get up at the same time every day. It's recommended that you get at least seven hours of sleep (each night... not each week)!
Avoid bad habits. Maybe that fifth cup of coffee today isn't the best decision. Alcohol, caffeine and other drugs will not help you study or retain more information.
Plan a Celebration!
After you finish your last exam, make sure you take the time to celebrate completing the term and acknowledge everything that you've overcome and accomplished. So binge-watch a new show (guilt-free), plan a (future) travel adventure and connect with friends (from a physicallysafe distance) – or do absolutely nothing at all (before your next adventure begins).