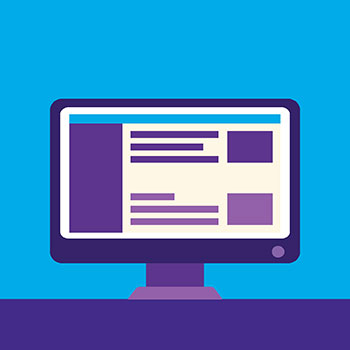 Preparing for online courses
Learning in an online format means you may need to adapt how you approach your course material. When considering the differences between in-person classes and online environments, it's important to remember that your previous experience means that you already have study strategies that can be applied to online learning formats.
Set yourself up for success in online learning by using the checklist below:
Review course resources that are available to you.

e.g.: MyLearningSpace course content, textbook, lecture slides, online discussion boards, classmates
Check updates and messages from your professor.

Check MyLearningSpace and your student email regularly for news items and information from your professor.
Reach out to your professor if you need clarity regarding an assignment or course content.
List the remaining evaluations in your course(s).

List and track each remaining assessment, including midterms, essays, discussion posts, and/or final exams, and note the due date(s).
Develop a plan to manage your time and avoid procrastination.

Treat each online course as if you still have scheduled in-class time. Schedule time to complete readings, review lecture slides, create notes and/or try practice problems.
Read your syllabus/course outline, break down your assignments into smaller tasks, create deadlines for each task and study sessions. Don't forget to track your progress.
If you had three hours of in-class lectures, you will continue to schedule those hours in your weekly schedule as well as time to complete readings and assignments.
Eliminate distractions to stay motivated when focusing on course work.

Online learning requires self-direction and accountability.
Turn off notifications on your computer, silence your phone or put it aside, find a space with limited distractions, and limit social media use by installing a website blocker such as Cold Turkey, Stay Focused (Chrome extension), or Self Control (Mac application).
Access available academic supports: