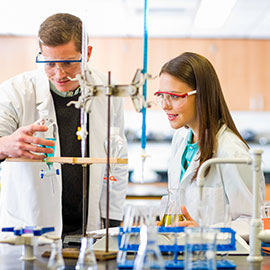 Research at Laurier
There are hundreds of professors engaged in collaborative and community-focused research at Laurier. Working alongside faculty members who are at the forefront of their fields will give you hands-on and practical experience to complement knowledge learned in the classroom. Here are some tips on how to get involved in research at Laurier.
Talk to Professors
Most professors at Laurier have ongoing research projects that involve students. Take time to learn about professors' areas of expertise – read their websites and consider whether their research is something that interests you. If it does, then email the professor directly to discuss opportunities to be involved in their research. When you contact a professor, be sure to include information about yourself (your skills and experience) and why you are interested in their research.
Attend Events and Network
There are countless research-related events taking place on Laurier's campuses – most of which are public and free. You can also reach out to research-related individuals and contacts at Laurier to learn about opportunities, such as:
your peers engaged in research
Laurier student societies
teaching assistants
Keep your eyes open and don't be shy!
Apply for a Research Award
Several of Laurier's departments and programs – Biology, Chemistry, Geography and Environmental Studies, Kinesiology, Lazaridis School of Business and Economics, Mathematics, Physics and Computer Science, Psychology – hold annual competitions to award Natural Sciences and Engineering Research Council of Canada (NSERC) Undergraduate Student Research Awards. Interested students can contact these units directly for instructions and timelines.
Pursue an Honours Degree
Many degree programs offer an honours option that allows you to complete a research project that is overseen by a faculty member. Consider this option early in your degree and speak with your academic advisor if you are interested.
Take Advantage in Research Specialization Courses
Laurier offers options as an enhanced minor that you can incorporate into your degree program. If you are interested in research, you could consider pursuing a research-related option. Many departments at Laurier offer independent or directed studies options, which can be an opportunity to undertake a research project under the supervision of a professor. Speak to your academic advisor if you are interested in learning more.
Take a Field Course
Many departments at Laurier offer courses with credits for intensive in-the-field research training. Speak with your academic advisor to learn about field course opportunities.