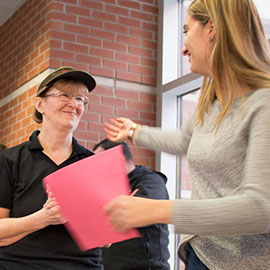 Go Fund Me campaign helps give Bernarda Petrina a happy sendoff into retirement
Laurier students helped give Bernarda Petrina a happy sendoff into retirement on Dec. 19, presenting her with a gift of almost $1,700 raised through a Go Fund Me campaign.
The campaign for Petrina, who until just before the holidays worked at the Tim Hortons location in Laurier's Science Building on the Waterloo campus, was organized by fourth-year biology student Natasha Buckiewicz, who said she simply wanted to give something to Petrina for helping make her days at university better.
"People love Bernarda," Buckiewicz said following a presentation of the gift in the Science Atrium. "She's done a lot for students just by being nice. She's so pleasant, always welcoming and makes your day so much better. I wanted to give her a nice sendoff from Laurier."
Buckiewicz found out about Petrina's retirement on Friday, Dec. 16, just three days before Petrina's last day on the job. Buckiewicz went home that night and set up a Go Fund Me campaign hoping to raise money as a retirement gift. She set a goal to raise $1,000 and shared the fundraising page through Facebook.
By Sunday, Dec. 18, the page was shared more than 1,500 times and more than 200 members of the Laurier community had contributed toward Petrina's retirement gift. They blasted through the $1,000 goal to raise a total of $1,689.61.
Petrina, who worked at Laurier for 12 years before her retirement, had trouble putting her sense of gratitude into words.
"I'm shocked," Petrina said, Buckiewicz at her side. "It's overwhelming."
Earlier in 2016, Petrina was presented an Employee Achievement Award for supporting a culture of service at Laurier.