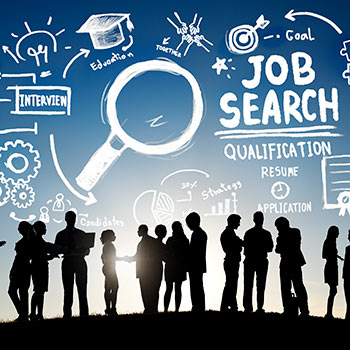 Interview Prep 101
Congratulations – you've got an interview!
Whether you're trying to land your first big job, get into grad school or contend for a co-op position, preparing for an interview can be a stressful experience.
But it doesn't have to be.
Laurier's Career Centre has the resources and expertise available to help you get ready and relaxed so you can ace your interview.
GETTING READY
Properly preparing yourself for an interview is crucial – you only get once chance to make a great first impression. Katherine St. Louis, manager of career resources and operations at the Career Centre on Laurier's Waterloo campus, encourages students to start the preparation process by participating in the Interview Success workshop.
Held regularly in the centre's Brantford and Waterloo campus locations, this 45-minute workshop shows you how to:
present your best qualifications
formulate effective answers to common interview questions
reduce interview stress and anxiety
follow up effectively after the interview
The centre also offers interview-coaching sessions to address your specific needs. In this one-on-one appointment with a career consultant, you could address:
industry-specific interview preparation
further strategies for dealing with interview anxiety
how to handle those odd interview questions (what would you do if there was a zombie apocalypse?)
Scary as it may seem, one of the best ways to prepare for an interview is to participate in a mock interview.
"Students often feel intimidated by this," says St. Louis. "But it's an excellent opportunity to practise your interview skills and then receive constructive feedback from someone who isn't hiring you."
Mock interviews can also be booked for students preparing for graduate school interviews.
KNOW YOUR STUFF
Showing a prospective employer that you've done your homework is an interview must. Be prepared to connect your skills and experience to the qualifications outlined in the job posting. To do so, St. Louis suggests familiarizing yourself with the STARR format (Situation, Task, Action, Result, Relevance) for answering questions that ask you to apply your experiences with a given situation.
Ask questions at the end of the interview. This shows the employer that you are informed about the position and the organization.

If you are interviewing by phone or Skype, you can book a quiet room at the Career Centre, allowing for privacy and eliminating interruptions from family or roommates.
SAY THANKS
Don't forget to follow up after the interview with a thank you note. It's a courteous and professional action that can set you apart from the crowd. St. Louis says many job seekers neglect this important part of the interview process. Sending an email or message over LinkedIn are suitable ways to say thanks.
Check out the career centre's event calendar (available in Navigator) for upcoming interview workshops and resources or stop by during their drop-in hours. Appointments can be booked in person or through Navigator.
Remember to breathe, Golden Hawks – and good luck!