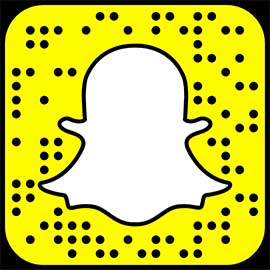 Upcoming Snapchat takeovers
It's going to be a busy month on Laurier's Snapchat account! Make sure to take part in these upcoming events by following our Snapchat stories at wilfridlaurieru.
Snapchat Takeovers
March 3 and 5 – Hawk Weekend at Laurier Waterloo
Hawk Weekend is a campus-wide residence vs. residence competition at Laurier's Waterloo campus. First-year leadership programs provide challenges and programming that residence buildings compete in. All of the events are focused around inclusivity, pride and spirit.
March 4 – Golden Hawk Challenge at Laurier Brantford
The Golden Hawk Challenge at Laurier's Brantford campus is an all-day event featuring games and activities pitting residence buildings against one another. Each event is put on by one of the first-year leadership programs, and is run by first-year students.
March 9 – On Exchange in France!
Laurier student Keith Diaz is in France this semester and will be snapping about his semester abroad at the ESC Rennes School of Business. Diaz will show what life is really like on an exchange, with snaps of his campus, his classes and local events.
March 11 – Open House at Laurier Waterloo
Check out Laurier's Waterloo campus – all from the comfort of your own phone! This Open House Snapchat will feature tours, chats with students, and so much more. Feel free to send in your questions!
March 14 – Tag Day
The Brantford and Waterloo Student Alumni Associations will be taking over the Laurier Snapchat account on March 14 to show our community the significant impact of donations on life at Laurier, and to thank all of our generous donors.
March 15 – Open House at Laurier Brantford
We will be snapping from Laurier Brantford on March 15. Whether you can attend Open House in person or not, this Snapchat will give you a sneak peek of life at Laurier's Brantford campus. Make sure to send in your questions! 
March 16 – On Exchange in the Netherlands!
Serena Gill is an exchange student at Radboud University in the Netherlands. In this takeover, Gill will show what it's really like to be a Golden Hawk studying abroad, with snaps that feature her life as a student, her campus, and her friends.
March 31 – Toast to the Class at Laurier Brantford
Join us on Snapchat as we raise a glass in a toast to the Class of 2017. We plan to celebrate the accomplishments of our graduating Golden Hawks, and show them what it means to become an official member of the Laurier alumni family!