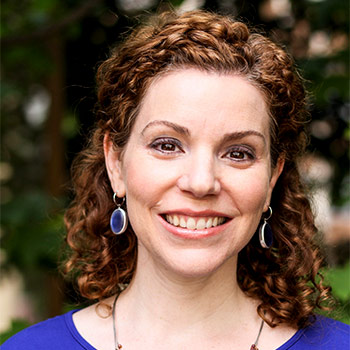 Wellness Matters
"Your wellness is worth it."
It's the message that Sarina Wheeler, one of Laurier's new wellness education coordinators, has for all Laurier students, and she's working hard to make sure she's heard.
"We can't excel if we're not well," says Wheeler, who coordinates wellness programming at Laurier's Waterloo campus. "I hope to inspire students to set themselves up for success by taking care of themselves physically, mentally and emotionally."
Wheeler has been hard at work since assuming her Waterloo role in April 2017, developing a cross-campus strategy to encourage students to make – and take – time for self-care.
Part of that strategy includes launching Laurier's inaugural Thrive Week from Oct. 23 to Oct. 27 at the Waterloo campus. Designed specifically for students, Thrive will feature a series of free events focused on building positive mental health, like professional workshops, yoga and chocolate art therapy.
"It's beneficial for everyone, especially students experiencing stress, to build in time for self-care and skill-building," says Wheeler. "We want to teach students not just how to survive at university, but to thrive."
Thrive will kick off with a mental health resource fair in the Concourse on the Waterloo campus Oct. 23 at 1 p.m. Wheeler is also a member of Laurier's Mental Health Advisory Committee, has completed safeTALK training on suicide awareness and is coordinating Ride the Wave, a workshop series to help students develop wellness skills such as emotional regulation and coping with anxiety.
Wellness, for Wheeler, is more than just a job. It's her way of life.
"I make sure to build self-care into every day, so that I can 'recharge my batteries,'" says Wheeler, who chooses to work out at the Athletic Complex on her lunch breaks.
For Wheeler, exercise has more than just physical benefits. She finds that daily physical activity helps keep her mind free and clear from 'dark clouds' and gives her more energy to get through her busy day.
Self-care takes many forms – like eating well, getting enough rest and engaging with others. Wheeler says that research shows that students who are engaged – either in physical activity, social groups or volunteer work – actually do better in school than those who are isolated (so co-curricular activities or intramurals can actually help, not hinder, academic success).
No matter how you chose to practice self-care, Wheeler wants all students to know that Laurier's campus wellness centres are ready and willing to help build and maintain positive health and well-being. Laurier's wellness centres offer a wide range of services and supports to students, even if they have opted out of the Students' Union health plan.
"We're a community at Laurier and we have to look out for each other," says Wheeler.
Hiring a wellness education coordinator at Laurier's Brantford campus is underway. Be sure to check the Health and Wellness section for future programming updates.
Wheeler encourages students to reach out and connect with the wellness centre at their home campus with questions or concerns: