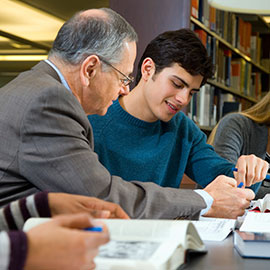 Nominate a Science faculty member for a Laurier teaching award
The Faculty of Science Award for Teaching Excellence recognizes Science faculty who have demonstrated excellence in teaching and demonstrated a commitment to student learning at Laurier. Students who wish to nominate a faculty member are encouraged to contact the chair of the relevant department or another faculty member for assistance with the nomination process. 
A nomination package must be submitted electronically as a single .pdf file to Kenneth Maly, Vice Dean: Priorities and Planning at kmaly@wlu.ca by April 4, 2018.
Up to two awards are granted each year: one for early career faculty and one for established faculty. Recipients of the award will receive a framed certificate and will be recognized at the annual teaching awards ceremony.
Eligibility
To be eligible for nomination for the annual Faculty of Science Award for Teaching Excellence, nominees must satisfy one of the following sets of criteria:
Early career faculty: A full-time faculty member in Science at the assistant professor level or a contract academic faculty member who has taught for fewer than five years in the Faculty of Science. To be eligible, the nominee must have taught a minimum of five half-credit courses at Laurier.
Established faculty: A full-time faculty at the associate or full professor level in Science, or a contract academic faculty member who has taught in the Faculty of Science for at least five out of the past six years.
A faculty member who has won the award is eligible to be nominated again after a ten year period has elapsed.
Selection Criteria
Nominations should be made on the basis of outstanding teaching. Criteria for the award includes:
An established reputation among students and colleagues for superior teaching, including the ability to engage and motivate students to achieve high standards.
A clear demonstration of efforts to keep abreast of new teaching methods, curriculum development, and course design.
Evidence of teaching quality in one or more of the following settings: large classes, small group teaching, tutorial instruction, laboratory instruction, online or blended learning and thesis supervision.
Evidence of a commitment to the use of high impact teaching practices to promote student learning.
Nomination Procedures
The nomination package should include the following:
A letter of support from the nominator(s) that highlights the accomplishments of the nominee described in more detail in the package (three page maximum).
The nominee's Teaching Dossier, which should include a teaching philosophy statement, a summary of teaching experience and accomplishments, and a summary of teaching evaluations (15 page maximum).
​Letters of support from students, colleagues, and others. A maximum of two letters from each of the following groups (each letter should not exceed one page):

current students
former st​udents
faculty
other constituents as appropriate (e.g. staff, non-faculty colleagues, community partners)
The nominee should provide the nominator(s) with an up-to-date Teaching Dossier that fits the criteria above. Do not include raw teaching evaluation forms; instead, provide a concise summary of teaching evaluations as part of the Teaching Dossier.