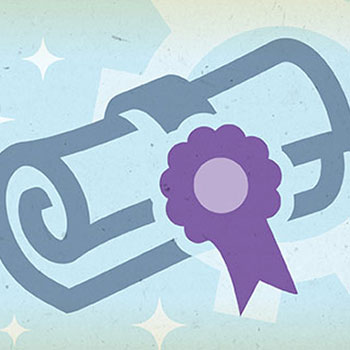 Introducing MyDegree
At some point after first setting foot on campus, most Wilfrid Laurier University students imagine the moment they'll walk across the stage to receive their university degree. Now, with the introduction of the new degree-audit tool, MyDegree, students can see at a glance exactly how far they've come, and how many – and which – steps they still need to take to reach the convocation stage.
Available in May to first-year (2017/18) and second-year (2016/17) undergraduate students and their academic advisors, MyDegree will give students a snapshot of the required courses they've completed, those in progress, and those that are still remaining to complete their degrees.
"MyDegree will make it easier for students to keep track of their course requirements and enhance their overall academic experience," says Kanwar Brar, 2017/18 president and CEO of the Wilfrid Laurier University Students' Union.
MyDegree's "what if" function will also allow students and advisors to view future scenarios – showing them whether the courses they've selected will allow them to fulfil their degree requirements on time, or in a case where a student has decided to change programs, which of the courses they've already completed could be used toward the new program, and which courses they would still have left to complete.
"MyDegree will ultimately make curriculum requirements easier to understand, and because of this, we're confident the tool will contribute significantly to the academic success of our students," says Jennifer Casey, assistant vice-president: Enrolment Services and registrar.
MyDegree is a planning tool – not a registration tool – to be used in conjunction with existing registration tools like LORIS. To access MyDegree, and for links to instructional videos and frequently asked questions, visit the MyDegree page. Students are still encouraged to connect with their academic advisors to discuss their progress in detail.
Key Times to Use MyDegree
Before meeting with an advisor prior to registering for the next semester.
After registering to ensure courses are applied to a student's degree progression.
After grades are posted.
After making any changes to course schedule or major.
Prior to applying for graduation.
Features
When students log on to mydegree.wlu.ca, they will see:
Student and program information.
Required courses outstanding and completed.
Program progress based on completed requirements.
Credit units required and obtained.
Course grades.
Course exceptions and equivalents.
Insufficient and repeated classes.
Extra courses.
Planning Tool for Students and Advisors
MyDegree will give students and advisors the following planning tools:
A 'what-if?' feature showing students and advisors how courses taken could fit into another program.
A 'look ahead' feature showing students and advisors which requirements can be fulfilled by taking specific courses.
A Student Educational Planner (SEP) feature to help students and advisors outline their academic plan by term, year or a full program.
MyDegree has been successfully adopted by many Canadian and North American postsecondary institutions under the name Degree Works. For more information, contact mydegree@wlu.ca.