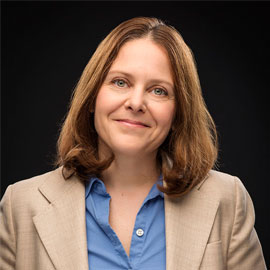 Laurier presents lectures by campus free speech expert
Wilfrid Laurier University faculty, staff and students are invited to attend talks by Sigal Ben-Porath on the topic of "Inclusive Freedom on Campus." Hosted by the Office of the Provost and Vice-President: Academic, Ben-Porath will give presentations on both the Brantford and Waterloo campuses on Nov. 19 and 20, respectively.
A professor, political philosopher, and author of Free Speech on Campus, Ben-Porath has become a sought-after advisor on matters of free expression, especially in the context of post-secondary institutions. Ben-Porath was among the external experts consulted by Laurier's task force on freedom of expression during its work to develop the university's Statement on Freedom of Expression, which was approved by Senate May 29, 2018.
"The task force benefited enormously from its engagement with Professor Ben-Porath and her work," said Robert Gordon, Laurier's provost and vice-president: academic, and chair of the task force on freedom of expression. "Her concept of 'inclusive freedom' is an essential part of Laurier's approach."
The talk is part of the process of implementing Laurier's Statement on Freedom of Expression.
"Our position has always been that the approval of the university's Statement on Freedom of Expression is not the finish line, but rather the beginning of an important, ongoing process," said Gordon. "Creating an environment where the pursuit of knowledge and inquiry can happen in a productive and meaningful way is something that requires constant stewardship. Professor Ben-Porath's visits to Brantford and Waterloo are part of that ongoing process."
Event Details
Brantford campus: Monday, Nov. 19 from 2:30 – 4 p.m.
SC Johnson Building, Room SCJ 127
Waterloo campus: Tuesday, Nov. 20 from 2:30-3:30 p.m.
Paul Martin Centre
RSVPs are not required, but seating will be available on a first-come, first-served basis. For further information, please contact Erica Goss at egoss@wlu.ca or 519.884.0710 x3971.