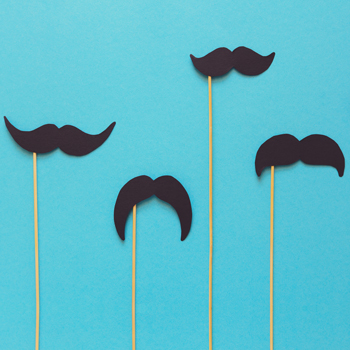 Laurier's Movember Club makes health and wellness a conversation for all students
November has become synonymous with Movember, a month-long campaign where men grow moustaches to raise awareness for men's health issues such as prostate and testicular cancers, and mental health.
Laurier's Movember Club, an emerging student club at the university's Waterloo campus, says men's health is a conversation that all students can be a part of. The group, in partnership with other campus clubs, has planned a number of events to encourage all students to be aware of health and wellness issues faced by men, young and old alike.
"In recent years, the official Movember campaign has encouraged everyone to join the conversation around men's health," says Kash Sripada, club co-president and fourth-year Business Administration student. "Our team welcomes anyone who wants to support the campaign to do so and our events are open to everyone. You never know who you can help or inspire – someone might have a father or brother experiencing a health issue, or a partner or friend. Encouraging people to be aware is really our main goal."
Laurier's Movember Club kicked off its awareness campaign with an open mic night at Wilf's on Nov. 5. Below are a few events and activities planned through the mo(nth). Stay tuned to Laurier's event calendar for event updates.
Movember BINGO
Tuesday, Nov. 13, 10 p.m., Wilf's
It's 'GO time, Golden Hawks – BINGO time, that is! Brush up on your BINGO skills and come out for a stampin' good time in support of a great cause. No charge to play, but donations to Movember Canada welcomed.
Mental Health Speak-Up
Tuesday, Nov. 20. 7 p.m. with Laurier alumnus Ryan Martin of MindCycle
The Movember Club and student club Bridging the Gap will partner for an evening of discussion about the importance (and benefits) of talking about mental health issues affecting young men. Laurier alumnus and founder of MindCycle Ryan Martin will speak about his personal experiences with mental health and his efforts to raise awareness for it through his recent cross-Canada cycling trek.
Movember Trivia
Wednesday, Nov. 28, 10 p.m., Wilf's
Come out to show what you mo'! The participant who knows the most goes home with bragging rights and a prize. No charge to join but donations to Movember Canada will be accepted.
Pie a Professor
Nov. 12-16, Science Courtyard
Definitely a one-of-a-kind opportunity! Offered in partnership with the Health Sciences Student Association, professors from the Faculty of Science will take one (two or three!) for the Movember team in the Science Atrium during the week of Nov. 12. Stay tuned to Laurier's event calendar for pie times and ticket prices. You have to 'buy to pie' and all money raised will be donated to Movember Canada.
Raffle: Two Toronto Raptors Tickets
The Movember Club is raffling off a pair of tickets to a Toronto Raptors home game. Tickets are $2 each or three tickets for $5 and can be purchased all month from the Movember Club's table in the Concourse. All proceeds will go to Movember Canada. The winner will be drawn Nov. 28 during Movember trivia at Wilf's.
Can't make it out to one of the events? Mo' problem! Laurier's Movember Club is collecting online donations to support Movember Canada.
For more information about Laurier's Movember Club and events, email movember.wlu@gmail.com.