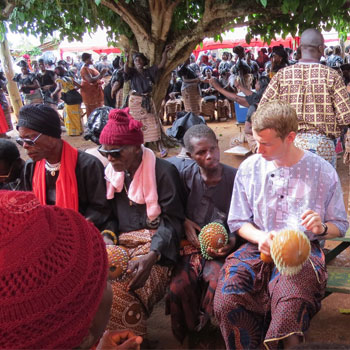 Now's your chance to travel, learn and make music in West Africa
Music and Community in Ghana
Experience participatory music-making, critical discussion, and reflective and experiential assignments on a special field course in Dagbamete, a remote village in the Volta Region of Ghana.
From May 10–26, 2019, become immersed in the vibrant musical culture and community life of the village. A small group of students will be led by Kathy Armstrong, a trained percussionist and music educator, as well as guest lecturers and instructors based in Ghana.
The course will be based at the West African Cultural Exchange Centre in Dagbamete, which is founded and directed by Kwasi Dunyo — a master Ewe drummer from Ghana. Students will also spend some time exploring the urban musical culture of Ghana's capital city, Accra, with sessions at the University of Ghana at Legon.
"The Ghana field course encourages personal independence and initiative, fosters relationships outside of your usual circles and provides new ways of looking at the world," says Armstrong, course instructor. "These skills will transfer to any field or career where independent thought, creative problem solving and a larger perspective is welcomed." 
Three Reasons to Take This Course
Immerse yourself in a cultural experience, where arts are integrated into everyday life. 
Practice experiential learning at its best.
Learn more about yourself as you connect with people and experiences outside of your norm.
Apply Today
If you're interested in this opportunity, apply before Jan. 18, 2019. Contact Deanna Yerichuk, assistant professor and Community Music program coordinator, at dyerichuk@wlu.ca for the application package.
Students from all faculties are welcome. A minimum of 15 students is needed to run the course. Applicants should be finishing their first year by May 2019 (at the minimum). Applicants should have some school, professional or personal experience in community studies, global studies and/or music.
Testimonials From Previous Students
"I believe that it is impossible to fully understand any culture, but particularly cultures as rich in musical traditions as the Ghanaians', without learning about the music. What causes Ghana to be unique is that you never just learn about the music, you participate. In fact, everyone participates. No book can describe Ghanaian culture. You need to participate, just as you do with their music, to have any idea of how incredible everything going on around you is."
– DB
"Learning based on participation was an excellent experience. Overall, I found it very fun, engaging and rewarding. There was something special about the joy you felt when you had finally figured out a new rhythm or call, basically on your own, and the proud look on your teacher's face. It was such a healthy learning environment; so happy, and encouraging. I know we had a very unique experience and made a very deep connection with people and place. I could not be more grateful."
– MC
Learn More
To learn more and get the application materials, please contact Deanna Yerichuk at dyerichuk@wlu.ca.