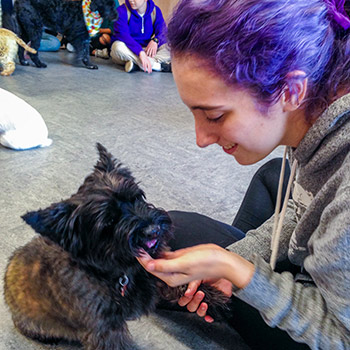 Two paws up for Chilling with Dogs initiative at Laurier, Martin Luther University College
Sara Peters has the alarm on her smartphone set for noon on Wednesdays. The first-year Community Music student at Wilfrid Laurier University doesn't set it to wake up or get to class on time; instead, the weekly alarm is a reminder to let herself go to the dogs. Literally.
Peters is one of approximately 30 students who attend Chilling with Dogs (CWD), a weekly hangout at Martin Luther College University (MLUC) designed to reduce stress, encourage relaxation and simply chill out by interacting with dogs. Kristine Lund, professor and director of spiritual care and psychotherapy programs at MLUC, started the initiative to help students cope with exam stress.
"Animals are used in a variety of therapeutic applications," says Lund. "This seemed like something we could offer to students. We gave it a try to see if it would be helpful."
Helpful it was. Close to 100 students participated in the CWD sessions that were first held at the Library on Laurier's Waterloo campus during the winter 2014 final exam period. Lund's dog Annie, and her friend's dog Jaeger were CWD's founding four-legged members. Both were just puppies at the time, something most student participants couldn't help but find enjoyment in.
"Annie and Jaeger would run around and chase each other or slip and slide on the floor," says Lund. "You could see the students start to laugh and smile. Some would interact with the dogs, while others just watched. Either way, students left different than they were when they came in."
Lund, who has conducted three research projects on the effects the interactions with the dogs have on students, says it takes approximately 20 minutes for the stress hormone cortisol to drop and levels of oxytocin, a neurotransmitter associated with relaxation, to rise. She says most students attending a CWD session stay for about half an hour, enough time to enjoy the intended physiological benefits of the doggy-break.
"We have a good group of dogs," says Lund. "As a dog owner, it's really satisfying to see how the dogs can help out, especially if a student is in a tough spot. The dogs seem to lighten the mood."
Students new to a Chilling with Dogs session are in for a treat. Between four and six well-socialized, family-raised dogs roam the multi-purpose room of Martin Luther University College. Students are welcome to play with the dogs or simply hang out and observe the fun during the drop-in style event on Wednesdays from noon to 1 p.m. Lund and the other dog owners are present for the sessions equipped with treats for their furry friends.
Below are a few details about some of the dogs that students might rub noses with.
Annie: Bedtime Professional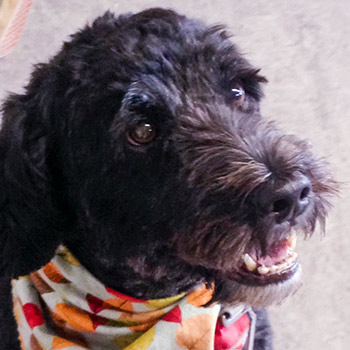 Annie is a five-year-old Portuguese water dog who knows how to give high fives and high 10s. She loves treats, a good head scratch and a game of fetch. Annie also enjoys a solid nap and puts herself to bed nightly after getting a bedtime treat (two pieces of kibble) from her human Professor Lund.
When she's not chilling with students on Wednesdays, Annie lends Lund a paw around her office in room MLUC 205. Students are welcome to stop by and say hi to Annie between classes.
Kiki and Fergie: Treats, Please!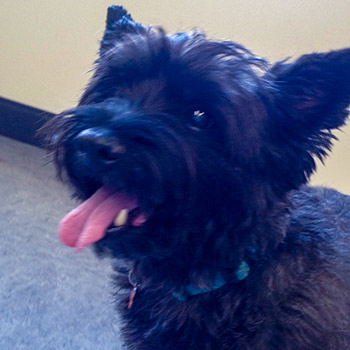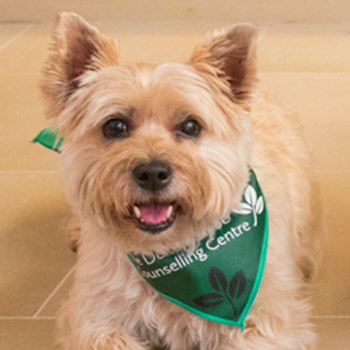 Kiki and Fergie are two Cairn Terriers who will do just about anything for treats, according to their human, MLUC professor Kate Harper. Kiki (pictured far left), 10, doesn't let his age slow him down. He still enjoys catching a ball and going for walks. His older half-sister Fergie, 11, prefers to live a more senior lifestyle and specializes in relaxing and napping. Kiki and Fergie have participated in CWD since Harper joined MLUC in 2015.
Honda: Personality Plus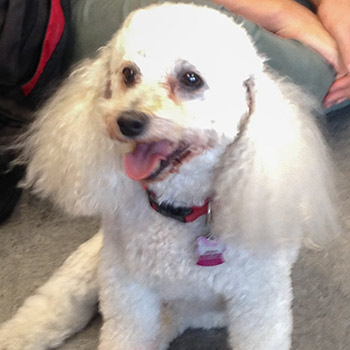 Honda, a Bichon Frise mix, is a long-time fur-friend of Kiki and Fergie and a total people dog. He goes from student to student, soaking up belly rubs and affection from willing humans. He fancies the 'oohs' and 'ahs' that his fluffy white ears receive from student admirers, which make him look younger than his senior age of 12.
Piper: Puppy Perfection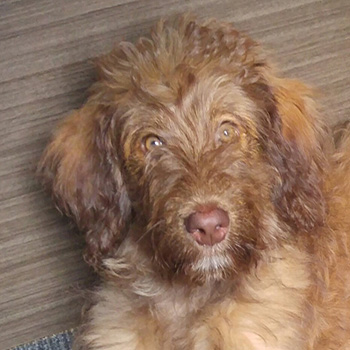 Piper might be the spunkiest CWD participant; the poodle-collie mix is just four months old and loves to munch on a good squeaky toy. She is a smart little dog, too, who understands both English and Pennsylvania Dutch, according to her human Janet Howitt, executive director of the Delton Glebe Counselling Centre. Piper was born on a farm that belongs to Old Order Mennonites. Their children played with her daily and spoke to her in the German dialect.
Guinness: Endless Energy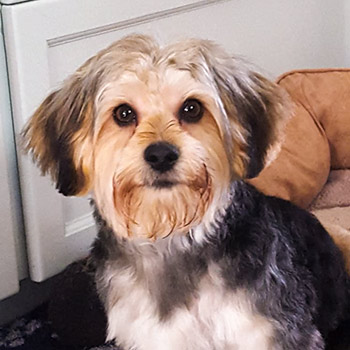 Guinness is a one-year-old Morkie-Poo (a tri-cross of the Maltese, Yorkshire Terrier and Poodle breeds) who weighs in at just 11 pounds. Despite his small size, Guinness has endless amounts of energy, says his human Rev. Mark Harris, principal-dean of Martin Luther University College. Tug-of-war and fetch are two of his favourite puppy pastimes.