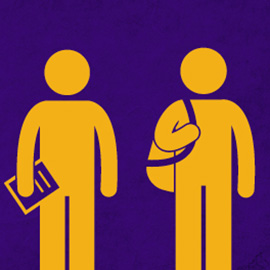 Important Homecoming information for students
Help keep Laurier's Homecoming golden. Together, let's welcome our Hawks home to share their purple and gold pride!
Your safety is our top priority, which is why the university, the police, the city and our emergency services partners actively discourage students from taking part in unsanctioned, off-campus street gatherings. These crowds lead to unsafe behaviour and injuries, and place a significant drain on university, emergency services and hospital resources.
Hit the stadium, not the street. Join friends and alumni to cheer on the Golden Hawks vs. the Guelph Gryphons Saturday at 1 p.m. Start with a free pancake breakfast from 9 a.m. to noon in the Quad, and follow up with alumni celebrations at Wilf's or the Theatre Auditorium.
As you think about Homecoming weekend, please think about what it means to be a Laurier Golden Hawk, how you represent yourself to our alumni and the cities of Waterloo and Brantford, and the impact of your choices.
Most importantly, please think about your safety. Read below for information about safe and respectful behaviour, police presence and fines, and the university's guest policy. Be smart. Stay safe. Be respectful.
Police Approach and Student Code of Conduct Sanctions
With the rise in unsanctioned street parties at Ontario universities, concern for student safety has increased, and as a result, there will be a significant police presence.
You will see more police officers working to disperse any crowds attempting to gather on the street and issuing tickets for all by-law and provincial violations such as drinking alcohol in public places (see section below on fines). Police laid over 600 charges at a past unsanctioned, off-campus event.
Students are accountable for their actions. Laurier students documented for violating laws or university policies may have the incident addressed by the code of conduct in addition to any legal proceedings. Sanctions imposed by the Dean of Students office could range from a meeting or restitution for damages to suspension or expulsion.
Guest Policy and Building Access
Out of concern for safety, no guests will be allowed in Laurier's first-year residence buildings on the Waterloo campus during Homecoming weekend, from Friday, Sept. 28 to Sunday, Sept. 30. The zero-guest restriction will be strictly enforced with a wristband policy.
Students living in the Ezra-Bricker Apartments and Houses (managed by Campus Living Centres) are restricted to one registered guest during Homecoming weekend, which has been communicated through a number of notices from the property manager outlining the guest registration process. Security personnel and wristband enforcement will restrict students from entering any building other than the one they reside in.
To ensure safety, all exterior doors to academic buildings on the Waterloo campus will be locked and monitored by security during Homecoming weekend. Staff, faculty and students will need their OneCard to enter, and visibly inebriated students will not be permitted entry.
It Can Happen to You. Make Smart Choices to Stay Safe
Increased crowds at unsanctioned street gatherings have led to unsafe and illegal behaviour, assaults and injuries. At past unsanctioned events, paramedics responded to 70 calls for help, and high numbers of people were transported to hospital.
Emergency responders and hospitals have had to bring in additional resources to manage the unsanctioned street gatherings and ensure they can respond to other people who need help throughout the city. Please consider the impact of your choices on yourself, your friends, and the people who live in our community.
Alcohol is a drug. Know your limits: At past unsanctioned events, a high number of people were transported to hospital; with a significant number in critical or serious condition related to alcohol and substance misuse. If you are of legal age and choose to consume alcohol, drink in moderation, know your limits, and don't drink and drive. For tips on planning ahead, visit drinksmart.ca/tips. Police will issue tickets for drinking underage and for drinking in unlicensed public places.
Always carry ID: Either carry photo ID with you or have a photo of your ID on your phone in the event you require emergency assistance. Last year, emergency room doctors were faced with treating patients they couldn't identify.
Look out for your friends: If you see something, say something. If you or a friend needs help, always ask for it. Download the SAFEHawk app, contact Special Constables at 519.885.3333 in Waterloo or 519.770.3778 in Brantford or call 911 if the situation gets out of hand and you need help. Stick together, never leave a friend behind and ensure you all make it home safely. Designate one person to help someone in trouble and make sound decisions.
Consent: It is necessary to obtain consent for all sexual encounters. Drinking eliminates your ability to give and receive consent – wait until you're sober. For more information and support resources, visit the Gendered Violence Prevention and Support site or contact Sarah Scanlon, Sexual Violence Response Coordinator at sscanlon@wlu.ca.
Arrange a safe way home: use Foot Patrol by calling 519.886.3668 (519.886.FOOT) in Waterloo or 519.751.7875 (519.751.PTRL) in Brantford, call a taxi or use the Friend Walk feature in the SAFEHawk app.
For those attending Saturday's football game in Waterloo, please be careful when walking on city streets to and from the game. During the game, look out for your friends and respect your fellow fans.
R-E-S-P-E-C-T
We are proud of our Laurier students, our reputation, and the Golden Hawk community we all represent. Your decisions have an impact – please live up to your reputation and make safe and respectful choices as members of the wider City of Waterloo and City of Brantford communities.
Please respect the law enforcement officers who are working to keep you and our community safe and allow them to do their jobs.
Please respect our neighbours and their homes. They are part of our Laurier community, too.
Respect others and their views, identities and preferences.
Fines
Street Behaviour (from Waterloo Regional Police)
Waterloo Regional Police will be increasing patrols on foot, in cruisers and on bicycles.
There are many organized Homecoming events; gathering on the street is not a sanctioned event and consuming alcohol in public areas is prohibited. Violations will result in a $125 ticket.
Police approach to enforcement will focus on disruptive and illegal behaviour that may cause harm to others.
Alcohol (from Waterloo Regional Police)
Selling alcohol at keg parties is illegal. Police continue to monitor the illegal sale of alcohol.
Charging money for people to consume alcohol, even when promoted as a 'cleanup fee' or a 'fee for the bracelet,' is still considered selling alcohol by police and the courts.
If purchasing alcohol, do so from a licensed establishment, be of legal drinking age, drink responsibly, and arrange a safe way home.
The fine for drinking underage is $125.
The fine for consuming alcohol in public is $125.
The fine for being intoxicated in public is $65.
Fire Safety (from Waterloo Fire Rescue)
If there is a fire inside your building, follow the emergency procedures and know where the exits are in your building.
Falsely setting off a fire alarm, fire extinguisher or smoke alarm is a Criminal Code of Canada offence.
The fine for setting false alarms is $642 per fire truck dispatched to your property.
Fines (from the City of Waterloo)
The fine for littering or urinating in public is $300.
The fine for excessive garbage in your yard is $550.
The fine for excessive noise after 5 p.m. is $490.
Students using funnels at Ezra-Bricker Street residences or on the roof will be addressed by security personnel or police.
Officers will charge tenants at their doors (often all responsible parties on the lease) and require them to clean up (proactively and reactively) while the officer is onsite. A Part III summons to court may be issued for any offence.