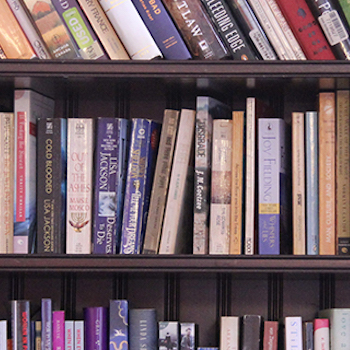 Get creative during National Novel Writing Month
November is National Novel Writing Month, an annual month-long event celebrating creative writing.
NaNoWriMo, as it's often abbreviated, launched in 1999 by author Chris Baty as a challenge to write 50,000 words of a novel in one month. It draws interest from thousands of people around the world and has led to several published novels that began as NaNoWriMo drafts.
To celebrate the 20th anniversary of NaNoWriMo, check out a few creative writing classes offered at Wilfrid Laurier University. Be sure to keep an eye on the events calendar for any on-campus writing events.
Did you know? Each year, Laurier presents the Edna Staebler Award for Creative Non-Fiction, the only award offered in this category in Canada. Established in 1991 by writer and literary journalist Edna Staebler, it recognizes a Canadian writer of a first or second published book with a Canadian locale and/or significance.
Don't miss this year's winner, author Kate Harris, who will be coming to both the Waterloo and Brantford campuses to discuss her book Lands of Lost Borders.
Note: Refer to the undergraduate academic calendar for official course descriptions and additional course information.
Intro to Creative Writing
EN272: This course, offered on both the Waterloo and Brantford campuses, introduces students to the practice of creative writing and literary analysis by reading short fiction, poetry and creative non-fiction as models for creative writing. Students have plenty of opportunities for writing practice with short assignments designed to broaden their skills and abilities in a variety of writing styles.
Creative Writing: Non-fiction
EN369: Creative non-fiction – including memoir, narrative journalism, personal essays and more – has become more popular than ever. This course instructs students in the reading and writing of creative non-fiction by addressing form, voice, language, style and structure. Assignments offer students a variety of opportunities to develop their creative non-fiction styles via examples and exercises, and will consider the cultural uses of writing creative non-fiction.
The Fairy Tale
EN237: Fairy tales have captivated audiences for centuries. This course examines the development of the fairy tale genre from its origins to contemporary adaptations. It explores a range of representative texts in their social and historical contexts. You may even feel inspired to write a fairy tale of your own.
The Creative Process
EN271: What does it take to create literature, especially fiction and poetry? Learn about the creative process, from inspiration through composition, editing and publishing, through the analysis of the creative work of others. In this course, there are opportunities for creative work in some assignments.
Creative Writing: Short Story
EN371: Short stories are wildly different than any other writing structure. The brief narrative requires its own techniques and approaches to make it successful. In this course, explore structure, plot, diction and characterization through writing and reading short stories.