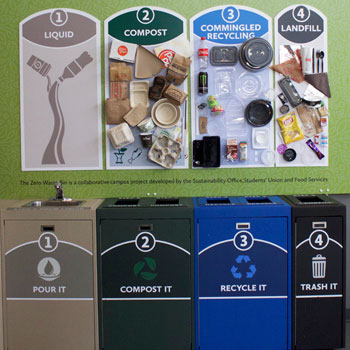 Green, blue and grey bins: what goes where
When you're done with your coffee, where does the paper cup and lid go? Recycling, compost or trash? What about glass bottles, juice boxes or greasy cardboard?
It can be hard to know what items go in which bin and, for the majority of students, staff and faculty who care about getting it right, it can be frustrating too. 
To help people better understand what goes where, Laurier's Sustainability Office is piloting a new zero waste bin system in the Terrace Food Court, with new signage and a sink, for cleaning containers and capturing liquid that might otherwise end up in recycling, compost and garbage bins. There are also volunteers on hand, students from EcoHawks and custodial and food services staff, during high-traffic times to help people sort their waste.
"We always hear from students that they find it confusing, they don't know what goes where," says Stephanie MacPhee, manager of the Sustainability Office. "It's not that people don't care about sorting their waste, but if you have a piece of plastic, it's hard to know if it's recyclable or goes in the garbage and sometimes our signage isn't as clear is it could be."
The problem is made more challenging because Laurier's waste is picked up by an outside company, Waste Management, not the Region of Waterloo or the City of Brantford, and that company has slightly different policies about what should go where.
Changes to shipment policies overseas have had a trickle-down effect too, forcing companies, including Laurier's, to be stricter about what they'll accept. Now, if more than 30% of a load of compost or recycling is made up of items that have been sorted incorrectly or are very dirty, the whole thing is tossed into the landfill. If the percentage is between 15 to 30%, there's a fee. If the load is full of liquid and weighs a lot, that bumps up the price too. 
"We're trying to increase people's level of education about what is supposed to be sorted where," said MacPhee. "Putting things in the wrong bin might not seem like a big deal, but when it happens over and over again, it can make for a lot of recyclables ending up in the landfill."
So far, MacPhee has heard a lot of positive feedback about the new system in the Terrace Food Court and she hopes to expand the new signs and sinks across both campuses.
In the meantime, here are a few guidelines:
Make sure to dump any extra liquid, scrape leftover food into the compost, rinse containers and recycle.
What goes in the organics/compost bin?
Paper coffee cups (Tim Hortons, Williams, Starbucks, etc.), but not the lids
Paper towels, bags and plates
Greasy, wet or soiled cardboard
Napkins, tissues, shredded paper
Laurier take-out containers (the beige clamshells)
Tea bags, coffee grinds and filters
Food, including meat and bones, sugar bags and eggs
What goes in the recycling bin?
Cans
Plastic bottles
Tetra Paks (juice boxes)
Milk cartons
Clean cardboard
Plastics #1 through 5 and #7. Check for a number on your plastic before recycling.
What goes in the Landfill bin?
Waxed paper, including the glossy paper used for wrapping sandwiches and burgers
Plastic straws and cutlery
Plastic wrappers and condiment packets
Waxed cups (used for fountain pop)
Tin foil
Chewing gum
#6 plastics. Often includes coffee cup lids, plastic cups, cutlery and plates.
Styrofoam