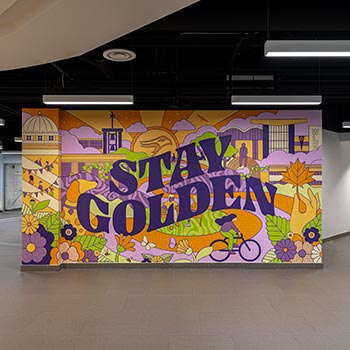 New Welcome Centre mural captures what it means to "Stay Golden"
If you look closely at the new mural outside the Welcome Centre on Wilfrid Laurier University's Waterloo campus, you will see a variety of seemingly random symbols, including a bell tower, some bees and two people talking on a bench.
In fact, there is nothing random about this mural's design. Every element was carefully chosen based on feedback from students and faculty to represent Laurier's distinctive identity. The bell tower is from Martin Luther University College, reflecting Laurier's roots as a seminary. The bees represent the campus beehive colonies and Laurier's renowned commitment to sustainability. And the two people chatting are sitting on Laurier's Friendship Bench, a symbol of the university's community culture and commitment to positive mental health.
Every Golden Hawk will find something to relate to in this vibrant new addition to the campus, which will have its official unveiling at the Welcome Centre on Thursday, Sept. 19. Commissioned by Laurier's Recruitment and Admissions office and supported by the Student Life Levy, the mural is an iconic representation of what it means to "Stay Golden."
"Creating this mural was a truly collaborative effort," said Karli Imhoff Malcher, Welcome Centre and events co-ordinator. "We want it to mean a lot of things to a lot of different people."
Imhoff Malcher's team surveyed students, staff, faculty and alumni to find out what Laurier means to them. They partnered with Waterloo designer and illustrator Stephanie Scott to shape the mural's design based on the more than 100 responses they received.
Scott painted the mural during the last week of August – a process that was captured in a time-lapse video – ensuring that it was completed in time to welcome students for the fall semester. The initial response has been overwhelmingly positive.
"Every time I walk by the mural, there are students taking selfies in front of it," said Imhoff Malcher. "That's exactly what we wanted: a gathering spot for people to show off their Golden Hawk pride. I can't wait to see it as a backdrop in convocation photos."
The "Stay Golden" mural will be officially unveiled at a public reception on Thursday, Sept. 19. Staff, faculty and students are invited to drop by the Welcome Centre, located in the Frank C. Peters Building, between 3:30 and 4:30 p.m. for a celebration, a viewing of the time-lapse video and light refreshments.
For more information, contact waterlootours@wlu.ca.