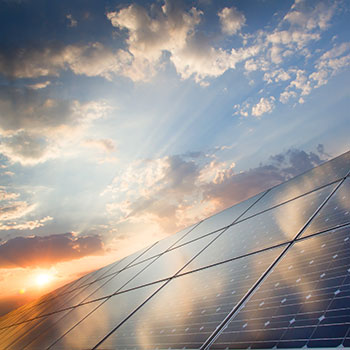 Solar energy, toys and ecotourism: A look at spring term course offerings
Introducing a New Course on Solar Energy
A new third-year course exploring the fundamentals of solar energy is among Laurier's unique spring term course offerings.
Introduction to the Physics of Solar Energy will appeal to students across a range of disciplines, especially those interested in clean alternatives to fossil fuels. The course is open to any student who has taken a first-year physics or astronomy course, or with permission from the department.
"We're starting to look more and more for renewable energy resources and solar energy is the most abundant energy resource available to us," says Ioannis Haranas, assistant professor in the Department of Physics and Computer Science. "It's one of the energies of the future."
After creating two successful courses in previous years – Planetary and Space Science and Physics for Medicine and Biology – Haranas wanted to tackle the subject of solar energy in a way students across disciplines could understand.
The course will tackle how solar energy reaches Earth and how we can harness and store that energy with technologies. It will also explore the physics of light, the thermodynamics of solar energy and solar radiation.
The course details are:
Course name: Special Topics 310D: Introduction to Physics of Solar Energy.
Prerequisite: AS101a,b, PC142/162 or permission from the department.
Check Out Other Spring 2019 Courses
Other unique courses offered this spring term include:
YC326/SOCJ326: Children, Toys and Media
This course examines a range of media and products developed for and marketed to children. Students will analyze television shows, video games, movies, books and toys in relation to theories about media and children's culture.
LY206: Famous Trials
This course critically examines the legal and social dimensions of transformative legal decisions in Canada. Students will be introduced to a selection of famous trials from the last century that have shaped our contemporary legal and social fabric. Trials covered will touch on issues including crime, politics, national security, terrorism, security of the person, freedom of expression and self-defence.
AS101: Astronomy I: Our Place in the Cosmos
Our Place in the Cosmos offers an introduction to the science of astronomy, the process by which we develop astronomical principles and the application of techniques to gain a modern understanding of our solar system. Topics covered include the historical development of astronomy, understanding the night sky, Newton's law of gravitation, light and telescopes and the solar system. New data from recent explorations of Mars, Saturn and other celestial objects will be discussed.
MU121: History of Rock Music
A survey of the history of rock music in Euro-American traditions from the 1950s to the present. The course is open to music and non-music majors.
RE104: Evil and Its Symbols
This course offers an investigation into the symbolism of opposites: sacred and profane, God and the devil, feminine and masculine, villain and hero, light and darkness. The use of symbols of evil is considered in contexts such as crusades, heresy trials, sexism, racism and scapegoating. The course uses themes important in several religious traditions to introduce basic concepts in religious studies.
ES295: Ecotourism and the Environment
This course will introduce students to the study of tourism directed at experiencing nature and the environment. Sustainability and assessment of human impact on local environments and populations will be examined using case studies from around the globe that consider topics such as wilderness treks and eco-lodges, parks and wildlife viewing, conservation and ethics, extreme sports, business perspectives, social issues and outdoor education.
Remember to Register for Your Courses
March 4 is the last day to register for Spring courses – check out the registration guide for more details.