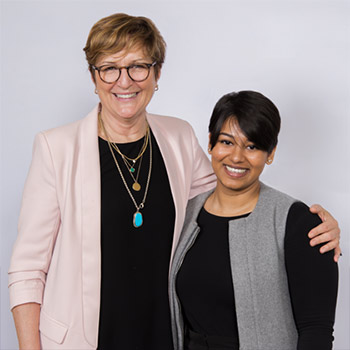 Laurier teaching excellence award-winner Josephine McMurray invests in student mentorship
Shreya Shah (BA '18) once heard that the difference between a role model and a mentor is that a role model is a person you look up to, but a mentor is someone who invests in you.
The investment Shah received from Wilfrid Laurier University Associate Professor Josephine McMurray changed the direction of her academic life.
"She was a mentor to me as a student and still is to this day," says Shah. "Meeting Josephine changed the course of my studies and, eventually, the course of my career."
McMurray, an associate professor in Laurier's Business Technology Management and Health Studies programs, was presented the university's 2019 Donald F. Morgenson Award for Teaching Excellence in the faculty mentoring category. McMurray researches business and policy issues related to using technology to support healthy aging.
"I see students as colleagues and value undergraduate mentor experiences as a way to find common ground," says McMurray. "There are truly transformational opportunities in research, but it starts by building an environment where students can develop foundational research skills."
Shah was studying Health Administration and Human Resources at Laurier's Brantford campus when she first met McMurray. At the time, Shah served as a news reporter for the student publication the Sputnik and was tasked with interviewing McMurray about her role as director of Laurier's Case@BTM initiative.
"Even though I was interviewing Josephine, it was a two-way conversation and she was interested in me," says Shah. "Right from the beginning, the biggest lessons I took from Josephine were humility and kindness."
After their initial conversation, Shah was invited to join McMurray's research team as an undergraduate research assistant.
During Shah's time as an undergraduate researcher, she says she felt like an equal member of the team – something she didn't necessarily expect among an accomplished group of doctoral students and researchers.
"The thing that struck me from our first interaction is that Josephine treated me as an equal," says Shah. "That had a significant impact on the research and learning environment because we weren't afraid to ask questions. She made it okay to say 'I might not know this, but I'm open to learning about it.'"
Shah currently works in an administrative role at the Hospital for Sick Children (SickKids) in Toronto. She credits her research experience for landing her the job and has her sights set on future opportunities at SickKids and beyond.
Do you know of a faculty member or student teacher making significant contributions to the learning experience of Laurier students through teaching innovation and mentorship? The 2020 nomination period for the Donald F. Morgenson Awards for Teaching Excellence and the Laurier Student Teaching Award of Excellence is now open.