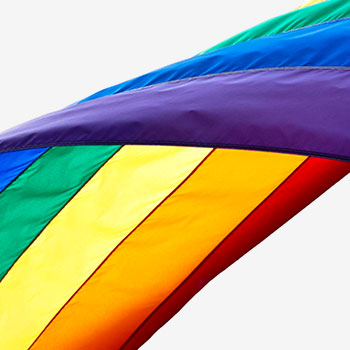 Celebrate Pride Month with virtual programming
While Pride Month celebrations look different this year due to COVID-19, there is still much to do and acknowledge throughout this important month. As thousands around the world take to the streets to fight anti-Black racism and racial and social inequities, we are reminded that Pride began as an act of resistance largely led by Black, trans and queer activists.
In 2019, the organizers of Brantford Pride stated that, "Pride, as we know it, began as trans and queer uprisings and riots throughout the 20th century. It is because of the brave moments of resistance to hateful, transphobic and queerphobic laws that we can gather as a community and celebrate our beautiful 2SLGBTQ+ selves. Pride has always been political! For the festive Pride celebrations that we have come to know and love today, we must thank the queer and trans, Black, Indigenous, people of colour who came before us, and honour their legacy of resistance through which Pride was born."
At the Centre for Student Equity, Diversity and Inclusion (CSEDI), we see the need for connection, resources, information, and activism during this month, and have compiled information about Pride Month 2020 in a central place so you can stay informed about what's happening when. The CSDEI Pride 2020 website contains information about Laurier supports and services, including student collectives like the Rainbow Centre and Queer Sphere. The website also includes:
resources on wellness and consent
supports for individuals impacted by gendered and sexual violence
community programming and online events
links to research projects promoting the wellbeing of 2SLGBTQ+ students in Ontario
opportunities for self- and community-care hosted by the Laurier Students' Public Interest Research Group (LSPIRG)
music playlists shared by Laurier students and staff
The CSEDI will take over Laurier's institutional Instagram account again on June 19. Follow along to stay current with Pride events.
For more information about Pride Month events at Laurier, email diversity@wlu.ca.