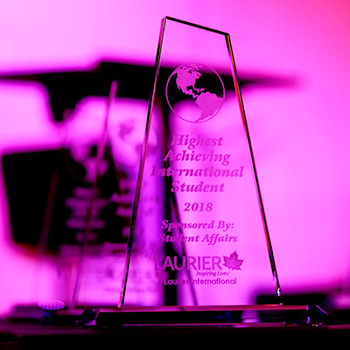 Multicultural Gala returns for fifth year
The Multicultural Gala, a celebration of cultures and student and faculty achievement, returns for its fifth year at Wilfrid Laurier University's Brantford campus on March 13.
Presented by the Intercultural Students' Association of Brantford in partnership with Laurier International and Conestoga College, the gala brings people together in an intercultural celebration. The event features a multicultural dinner, musical performances, a fashion show, a talent show, door prizes and an awards ceremony. The gala also provides the chance for students to build their networks and be exposed to different cultural traditions.
"The main purpose of the event is to allow Laurier students, both domestic and international, to express and share their cultural identities with others while being able to learn about and experience other cultures in an immersive fashion," says Aimée Pinto, president of the Intercultural Students' Association of Brantford.
The awards ceremony will recognize domestic and international students for academic achievement and community involvement. Awards will also be presented to students and faculty members who have been involved in global issues, as well as those who have supported Laurier's community of international students.
"This year, we sought to include a wider diversity of ethnic and cultural groups in the celebration," says Skye MacDonald, vice-president of the Intercultural Students' Association of Brantford. "We hope to be more representative of all of the different cultures and ethnicities on campus through this celebration."
The Multicultural Gala will take place at the Brantford Convention Centre, 100 Market St. S., on Friday, March 13. Doors open at 6 p.m. Tickets are free and are available on Eventbrite. Attendees are asked to wear semi-formal attire, with traditional cultural attire also welcome and encouraged.
For more information about the Multicultural Gala, contact Jane Desmond at jdesmond@wlu.ca, international student advisor at Laurier International.