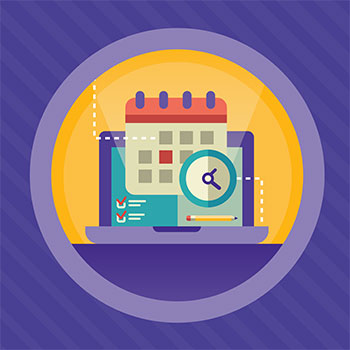 What's Happening at Laurier?
Never miss out! Our calendar of student events and important dates is your source to know what's going on at Laurier. It has useful features to help you find what you're looking for and keeps you up to date.
Even though we can't gather and join events physically, there are many virtual events happening. Drop by some of our events online to get to know your fellow students and stay connected with our community.
Laurier's calendar makes it easy for you to share an event you're interested in on social media, add it to your own calendar and set yourself a reminder.
Experience Laurier Through Events
You can find the calendar of events widget on the students.wlu.ca home page. Want to explore the calendar more? Click the Full Student Events Calendar button to see the calendar in full and use some of the features to find what interests you.
Featured Events
Filter the calendar by featured events to see what's happening in the Laurier community.
Check out social events from departments across Laurier such as drop-ins, virtual coffee clubs.
Find student support through wellness group sessions, equity, diversity and inclusion events, Indigenous student events, and more.
Set yourself up for academic success by attending student success workshops and study support.
Engage in lectures and speaker panels.
Important Dates
Stay organized by using the calendar to avoid missing deadlines or incurring late fees. Take note of all the important academic and administrative dates such as course registration, dropping or adding courses, tuition and fee deadlines, and the start and end dates of your academic terms.
Filtered Content
Certain events and workshops are catered towards a specific student audience, such as undergraduate and graduate students, or Waterloo and Brantford students. You can filter using categories and locations in the search function to find events that are just for you.
How You See It
List View
Events are displayed as a visual list, giving you the date, time, location and a brief summary of the event. The list is set to view the current day but you can change the date range in the View By menu. For the planner in you, see a list of events for up to the next 365 days!
Grid View
Are you more of a traditional calendar person? The grid view allows you to view events in a traditional calendar format. Click the event name to see a brief description of the event. Like the list view, you can set the date range to see your preferred timeline.
Search
Want to find specific events? Use the filter features under search on either calendar view. You can search for events by start and end dates, keywords, categories and location.