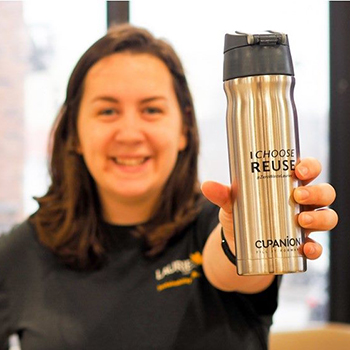 Celebrating Laurier's first WWF Living Planet Leader
Wilfrid Laurier University is one of the first postsecondary institutions to take part in World Wildlife Fund Canada's (WWF) Living Planet @ Campus program. Through the program, Canadian postsecondary students can impact their communities and campuses by becoming leaders in protecting and restoring nature and advancing the practice of sustainability on a personal and academic level. Students are invited to participate in one of the program's eight actions, which include Earth Hour, Canadian Shoreline Cleanup, Design Change for a Living Planet and the Living Planet Leader certificate.
Brooke Dietrich (BA '19, MA '20), who recently earned her master's degree in Social Justice and Community Engagement, is Laurier's first WWF Living Planet Leader, one of 20 certified leaders across Canada. Dietrich's passion for social justice inspired her Living Planet Leader journey, enabling her to address the dual crises of biodiversity loss and climate change.
The certification program allowed Dietrich to choose activities and experiences that would develop the skills she needs to achieve her career goals. She gained experience in event coordination and management, thought leadership, and the opportunity to engage with students in conversations and action around conservation and climate change.
"It was really inspiring to be able to work with students, staff and faculty as well as community members to bring sustainable education and products to campus," says Dietrich. "Being in an environment that is constantly open to learning new ideas was transformative for my early years as a sustainability advocate."
During her certification journey, Dietrich was volunteering and working as the sustainability assistant in Laurier's Sustainability Office, which gave her the opportunity to advocate for social sustainability, accessibility and community engagement. She supported the pilot composting program in residence and researched ways to make campus food vendors and residence more sustainable. In addition, Dietrich was the recipient of a Sustainability Hawk Fund grant to host a workshop for more than 120 undergraduate students from the Brantford and Waterloo campuses about menstrual equity.
"It really taught me how important it is to grow and evolve as you learn new information on how to be more sustainable," says Dietrich. "I am very thankful for my experience and would encourage any student interested in getting more involved with or just learning more about sustainability to reach out and touch base with the Laurier Sustainability Office."
Students can obtain their WWF Living Planet Leader certificate by demonstrating leadership and teamwork; personal application of sustainability; application of sustainability in academics; and campus, community and global volunteerism. Students have from the first day of their postsecondary program until three months after graduation to complete and submit the requirements to earn the certificate.
"The great thing about the certificate is that a student can be a team player within their community and their work is just as important and valued," says Katarina Milicic, outreach and programs coordinator at the Sustainability Office. "Students can put the certificate on their resume and be part of a network of leaders in sustainability across Canada."
Students interested in earning the WWF Living Planet Leaders Certificate can email the Laurier Sustainability Office at sustainability@wlu.ca or book a virtual one-on-one information session.