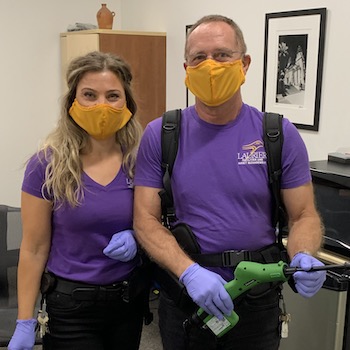 Laurier's frontline workers use new technology to keep campuses clean and safe
Throughout the course of the pandemic, custodial staff at Wilfrid Laurier University have been working diligently on the frontlines. As limited numbers of students and employees return to campus, they have redoubled their efforts to ensure the spaces people are accessing are clean and safe. The team – part of Laurier's Facilities and Operations department – has undertaken intensive and ongoing training to ensure that custodial staff feel safe, informed and well-trained for current hazards, all while adopting to the ever-changing pandemic environment. They've also added new equipment and protocols to address the unique challenges presented by COVID-19.
The custodial team is collaborating with various departments across the university, including Laurier's Safety, Health, Environment and Risk Management, Information and Communication Technologies, Special Constables Service, Human Resources and Communications.
"At the end of the day, it's not just about us in Facilities Operations. We're working with all the University departments, also supporting projects, construction initiatives and contractors who are trying to keep us moving forward," says Ron McKenzie, director of Business and Facilities Operations. "Our biggest task is to maintain a certain comfort level for those who are returning to campus."
Equipment and Research
Some of the measures that Facilities Operations have undertaken include installing hand sanitizer stations, procuring personal protective equipment (PPE), erecting directional signage and encouraging handwashing and social distancing measures. Custodial services also purchased 20 handheld Victory Electrostatic Sprayers, which use technology designed to disinfect surface areas.
Electrostatic spraying is a method of applying an even coating of disinfectant or sanitizer. When it is sprayed through the device an electric charge is applied to a solution to create a 3-D wrapping effect –leveraging the same static electricity that causes fabrics to cling together. Since the particles hold an electric charge, it allows the disinfectant to wrap around and evenly coat a greater surface area for a complete coverage.
"This new technology is a very fine mist that gets into all the crevices, quickly killing all pathogens on entry points, counters and touchpoints," says McKenzie.
The benefit of the electrostatic spray technology is that it reduces the physical demand of traditional cleaning procedures.
"With electrostatic spraying, you get a lot more coverage," says Jenna Lowe, manager of Custodial Services. "From an ergonomic perspective, it makes things very efficient for our custodial staff and helps reduce repetitive motions."
What Students, Faculty and Staff Can Expect
Constant cleaning and disinfecting continue to be a top priority as some students and employees return to campus through the university's recovery plan. In addition to regular daily cleaning, heightened protocols have been developed based on traffic and usage. The Facilities Operations team is tracking which buildings get the most foot traffic to ensure they receive additional cleanings.
"If there's high traffic flow, we will disinfect, top to bottom, twice a day with our electrostatic sprayers," says Lowe.
Steps and Procedures for Returning to Campus
Lowe and McKenzie share steps on how the Laurier community can help maintain a safe and comfortable environment as some students, staff and faculty return to campuses.
Face coverings: Ensure that you are wearing a face covering and maintain a safe social distance from others. Review Laurier's face covering policy.
Pay attention to signage: The university has placed various signage and barrier-free areas across campuses. This includes doors that are marked entry or exit, directional signage for the flow of traffic, PPE and barrier-free zones, one-rider elevators and floor markers for social distancing.
Sanitization: Hand sanitizer units and disinfecting sprays have been placed across campuses to ensure that community members feel safe. In addition to daily cleaning, disinfecting sprays have also been placed in high traffic areas, like washrooms, where individuals can spray down touch points after use.
Be kind: Custodial services and facilities operations staff have been working on the frontlines since the onset of the pandemic. As changes continue to occur, they have continued to develop and innovate protocols to ensure staff, faculty and students feel comfortable when they return to campus. Let's take care of each other by being kind and thank our frontline workers.
If there are questions and concerns for the Facilities and Custodial Operations, please contact the Iservicedesk@wlu.ca.