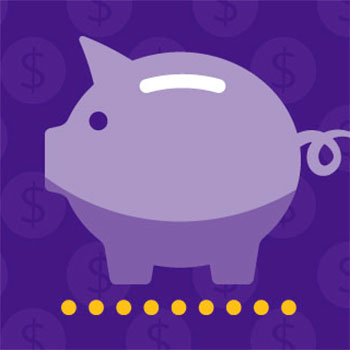 Up your financial literacy game with Laurier's money management certificate
Money isn't always easy. Earning, managing and spending it wisely takes some know-how. Learn what you need to know about personal finances through Dollars and Sense, an online money management certificate program open to all Laurier students.
Dollars and Sense covers the four foundational components of financial knowledge: budgeting, credit, investing and financial planning. Each component is covered in an online workshop developed by a financial industry expert.
Workshops, housed in MyLearningSpace, are designed to be self-paced. The certificate kicks off with Budgeting Basics on Sept. 23. The remaining three workshops – Credit with Confidence, Informed Investing and Financial Future – will be released throughout the fall term.
To register for the workshops:
Log in to MyLearningSpace
Select Self Registration
Select Money Management Certificate from the Course Offering Name column
Complete all four workshops to earn your money management certificate, which counts towards your Laurier Experience Record.
Here is what some Laurier students have said about their recent experience in the Dollars and Sense money management certificate program.
Real-life Skills
"The Budgeting Basics workshop has helped me better manage my fixed and variables costs. With each paycheque, I make sure to have enough money set aside for all my fixed costs, such as bills, and put some money away in case something comes up. What I have learned through the certificate program is definitely helpful in day-to-day life." Mika B., Criminology student
Credit 101
"I wanted to know more about credit before obtaining a credit card when I turned 18. Having this information prior to getting a card improved my understanding of how a credit card works, what I feel comfortable using it for, and how to navigate stressful financial situations that I could fall into." Kayla D., Mathematics student
Proactive Approach
"It was great to hear from industry professionals about credit and investment, and I found the budgeting advice to be useful and applicable to everyday life. Dollars and Sense is a great way to proactively consider your financial situation and reach your financial goals." Dylan Y., Financial Mathematics student
For more information about the Dollars and Sense money management certificate, email moneymanagement@wlu.ca.