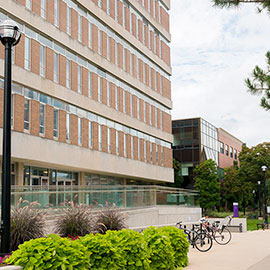 Update on Library services and new Mail-on-Demand service
The Laurier Library is working hard to ensure that we can provide the best possible services and resources to our users given constantly changing circumstances associated with COVID 19 pandemic, with strong focus on protecting the health and safety of our university community.
The Library buildings will not be accessible to the public and all in-person Library services will be suspended, including bookable study spaces and in-person archival consultations. However, we made sure that our core services continue to be provided and enhanced within the framework of health and safety protocols. We are also introducing a new Mail-on-Demand service.
Books to Go – Updated Schedule
The Laurier Bookmobile (Books to Go – BTG) service with delivery in Waterloo, Kitchener and Brantford, including requesting of books and physical items between Laurier, University of Waterloo and University of Guelph, will continue to operate.
We have introduced additional BTG pick up times for the Waterloo campus starting Monday, Jan. 18, 2021. For more information including the updated schedule, see the Library's Books to Go service page. For more information on pick up in Brantford through the Brantford Public Library, see the BPL Modified Services page.
If you have any questions about requesting items or your book loans or returns, contact us at infouser@wlu.ca or chat with us online during operating hours
Available Online Resources and Services
The following digital and on-demand services and resources will continue to be provided in support of online and remote teaching and learning:
online research help with Subject Librarians and Ask Us virtual reference services
all library electronic resources, including access to HathiTrust ETAS (Emergency Temporary Access Service for access to ebooks), electronic reserves and online course readings via ARES
scanning-on-demand and digitization services via OMNI system, scanning of Archival and Special collections
inter-library loan for digital materials
Mail-On-Demand Service
The Library will start the Mail-On-Demand service effective Monday, Jan. 25, 2021. The service will allow Laurier users to request books and other circulating collections from Waterloo, Kitchener and Brantford campuses, the Annex remote storage, as well as the University of Waterloo and the University of Guelph. The requests will be mailed by the Library directly to user addresses. This service is being made available to all faculty, students and staff.
How It Works
The Mail On Demand Service is fully integrated with the Library's Omni search interface by providing an additional delivery option to the existing request screen. For more information, visit the Mail on Demand Service page.
Follow the steps below to submit a Mail-on-Demand request from Omni.
Access Omni from the Library's main site or the Omni page to place a request for scanning.
Sign in with your Single Sign On (SSO) credentials to search and make a Mail-On-Demand request. Click the 'Sign in' button on the top right corner of the screen.
Once you search, find and chose a full record for the item, click "Borrow from Laurier Library."
Select 'Mail-on-Demand' under Pickup Location and submit your request.
When the Library is ready to mail you the item, we will send you an email asking for your address. Once provided, the Library will mail you the item and a prepaid return label.
You will receive a prepaid return label in your package (remember to save the original packaging for re-use sending the received items back).
Please note that if a requested book is available via the HathiTrust as part of the Emergency Temporary Access Service (ETAS) it will not be eligible for the Mail-on-Demand service due to HathiTrust licensing requirements. In this case, Library staff will follow up with you and will provide you with a link to the requested title in HathiTrust.
For additional information on Library services, resources and facilities, check our update page Library Coronavirus (COVID-19) Service Update.