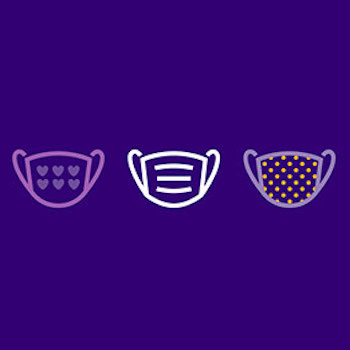 Reminder: Masks required in class
This is a reminder that effective the first day of fall term on Sept. 8, Laurier requires masks for any indoor activity that is part of your academic course, including, but not limited to: lectures, tutorials, seminars, laboratories, tests, exams and other forms of academic course instruction.
Where to Obtain Free Masks
Waterloo:
Dean of Students Office, Fred Nichols Campus Centre, room 2-209
Students' Union U-Desk, Fred Nichols Campus Centre, second floor
Brantford:
Dean of Students Office, One Market, room 207-40.
Level One Lounge, One Market, OM116
Kitchener:
Lyle S. Hallman building, room 106, on Thursdays and Fridays between 9 a.m. and 3 p.m. or email Zaida Leon at zleon@wlu.ca to arrange a pick-up time.
Wearing masks in these higher-capacity, close-proximity settings with groups gathering for periods of time, will help to limit the spread of COVID-19 within our community. See the mask FAQs for more information.
Please visit the COVID-19 hub for more resources, FAQs, and information about our health and safety measures.