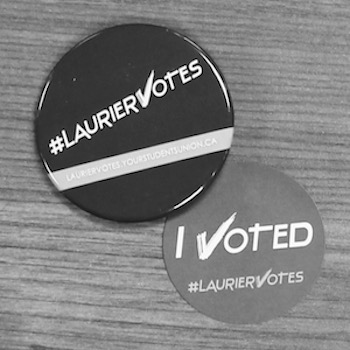 Everything you need to know about the Students' Union Election
During the Students' Union election, Laurier students will vote in undergraduate students to be the Students' Union President and CEO, sit on the Students' Union Board of Directors, student representative(s) on the Laurier Senate, and student representative(s) on the Laurier Board of Governors for the following school year.
All information on the Students' Union Elections can be found at lauriervotes.yourstudentsunion.ca or the Students' Union social media accounts:
This includes past recordings of open forums and debates, links to upcoming events, candidate platforms and more.
Important Dates for Election Week
Jan. 24 – Presidential Debate at 3 p.m.
Jan. 25 to 27 – Voting Days
Jan. 27 – Voting Results and Games Night
Presidential Debate
The final presidential debate takes place Jan. 24 at 3 p.m. This is a drop-in event where undergraduate students can join the Zoom call and ask questions of the candidates. 
Voting Days
Voting days are Jan. 25 to 27. You will be emailed the link to vote – the link will also be available on lauriervotes.yourstudentsunion.ca and @lauriervotes.
Results Night
Results will be announced on Jan. 27 as part of an Elections Results night. This will encompass Games Night, hosted by Hawk Team from 6:30 to 7:30 p.m., where there will be virtual games night for an hour with the chance to win great prizes and socialize before election results get announced at 8 p.m. This event is open to all Laurier students on the Waterloo and Brantford campus.