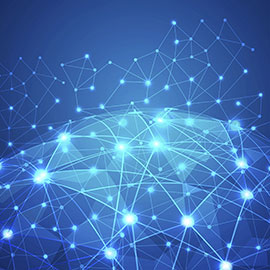 How to manage your online safety
Moving away from home is a huge life transition with newfound responsibilities. You might be managing the cooking, cleaning, bills and laundry for yourself for the first time. It's an exciting time to learn and try new things. There is one more thing you should consider – how to manage your online safety.
Information and Communication Technologies (ICT) at Laurier has some helpful tips to manage the information that you may leave behind – intentionally or unintentionally – and stay safe online. 
Treat Personal Information Like Money
Information about you, such as your online purchase history or location, has value – just like money. Be thoughtful about who gets that information and how it is collected through apps and websites. Use private browsing tabs when searching the internet. Open/public Wi-Fi hotspots are not secure and you run the risk of exposing your information to third parties when you use them. Avoid connecting to them, especially if you are using the internet for confidential transactions, such as online banking.
Be Aware of What's Being Shared
Set the privacy and security settings on web-based services and devices to your comfort level for information sharing. It's perfectly fine to limit how and with whom you share information. Use passwords to lock your phone and other devices and set tracking settings in case you lose them.
Share with Care
Think carefully before posting about yourself or others online. Consider what a post reveals, who might see it and how it could be perceived now or in the future. Sharing information such as your room number, address, class schedule or travel plans could impede your safety.
Build a Better Password
To create a strong password, ICT strongly recommends:
Passwords with more than 12 characters and that also contain three or more uncommon words.
Passwords that differ from previous ones.
Avoid using your first, last or username in your password.
Using a mix of uppercase, lowercase, digit and non-alphanumeric characters.
Use words from a favourite book, song or phrase that you can easily remember and won't need to write down (e.g., Sage,rosemary&thyme or 4Score&7yrsAgo). It is also important to keep your password private; don't share it with anyone.
ICT will never request any student's password to perform a task. If you receive a request that asks you to reveal your password, treat it as suspicious and report it to the ICT Service Desk at support@mylaurier.ca.