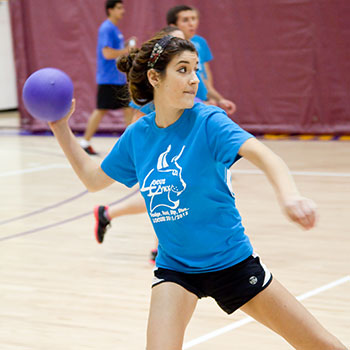 Recreation activities this fall at Laurier
Offering an outstanding student experience is what we're known for at Laurier; it's something that happens inside the classroom and out.
Intramurals and extramurals are great options for having fun while working up a sweat alongside fellow Golden Hawks and other college and university students.
Here's what you need to know about fall-term intramurals and extramurals at Laurier.
Intramurals: Waterloo and Brantford
Intramurals are recreational activities with a competitive edge. Compete against Golden Hawks from across your home campus in activities such as dodgeball, hockey and badminton. You can form your own team or register as a single player. Either way, we know you'll have fun!
Check out the complete list of intramural activities. The deadline to register for Waterloo campus intramurals is Sept. 13 at 4:30 p.m. and Oct. 8 at 4:30 p.m. for intramurals at Laurier's Brantford campus.
Sport clubs: Waterloo and Brantford
Is there a sport you're interested in that we don't currently offer? Sport clubs might be exactly what you are looking for! Sport clubs are run by students for students and are focused on leadership in competition, performance and team management.
Learn more about sport clubs at Laurier's Waterloo campus and at Laurier's Brantford campus.
Still don't see what you're looking for? Contact Athletics at 519.884.0710 x3803 in Waterloo or at 519.756.8228 x5728 in Brantford to obtain a club sanctioning application form and for help building a club.
Extramurals: Brantford
Looking to play something a little more competitively? Extramural teams at Laurier's Brantford campus travel to play other colleges and universities in tournament-based competition.
Check out the complete list of extramural sport offerings. Dates, try-out locations and tournament information are listed by sport.
Free Group Exercise and Dance Classes: Waterloo
Not sure about joining an intramural team or league just yet? No problem. Athletics is offering free admission to all group fitness and dance classes Sept. 9-15 at Laurier's Waterloo campus. Try out a hip-hop class or blast some stress away in cardio kickboxing.