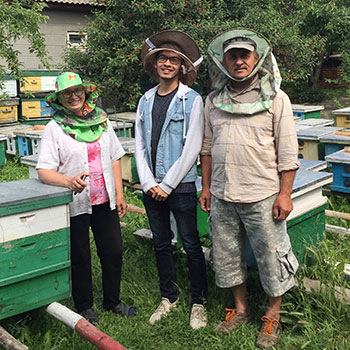 Participant observation with beekeepers in Ukraine's Danube Delta
Third year combined Anthropology and Archaeology major Gary Hung reflects on his experience of doing ethnographic fieldwork in Ukraine in May 2018.
"Even though I couldn't understand what you were singing I feel like I can relate to every word…" This is what Lukeria Ivanovna Rilskaia said after I sang (at her request) a Taiwanese folk song that I had grown up listening to. Lukeria Ivanovna is an elderly Russian Old Believer woman who lives in the town of Vylkove in the Ukrainian part of the Danube Delta, known as a "little Venice" because of its canals. Despite the fact that I sang in Taiwanese, four generations of Russian-speaking women surrounded me and listened carefully as I sung about how a man expressed his longing for a woman by describing Taiwan's beauty.
During a two-week field trip to Ukraine's Danube Delta in May this year, I not only learned first-hand about how to conduct participant observation as part of ethnographic fieldwork, but also acquired valuable information about beekeeping. I worked as a research assistant alongside Associate Professor Tanya Richardson on a project about apiculture and its relationship to different sectors in Ukraine. It was fascinating to see how beekeeping connects to numerous topics such as economics, politics, and ecological conservation.
Normally, if we see a random beehive or a swarm of bees we would run away and get someone remove it immediately. However, a swarm means honey and money for beekeepers. During fieldwork with beekeepers such as Mykhailo Zhmud and Akulina and Vasyl Fedorenko, instead of running away, we would do the opposite, and try to catch the swarm by shaking the tree where the swarm had landed so that the bees fell into another box or bag. Taking part in this research project was probably one of the most interesting experiences I've ever had. But being close to the bees was a bit scary sometimes such as when the bags of swarms were next to me in the car or when I was asked to pick up a queen and place it inside a new colony. After spending a couple of weeks around them, I started to fear them less and started to understand their responses.
Maybe because I am a musician and have played in an orchestra it seemed to me that a honeybee colony without the queen is like a symphony without the conductor. I was lucky enough to work during the queen rearing process and have first-hand experience with how to do a split, or start a new colony.
Not all the experiences I had were scary. I also had a chance to extract honey from all the frames that we collected from hives and to taste honey from different flowers such as acacia and false indigo. On top of that, I also got to meet many of Richardson's old friends and colleagues. Lukeria Ivanovna, an 87 year old woman with a lot of life and joy in her, was one of these people. She was born in Vylkove before World War II when the town was part of Romania, lived through the entire socialist era, and now lives in Ukraine. This meant she had many stories to share and sing about when we got the chance to see her. I also met Nikolai Izotov who told us many stories as he took us on a boat tour on the Danube River.
Across the world, honeybees and other pollinators are declining. The importance of honeybees and their contribution to the agricultural sector is immeasurable. The film More than Honey quotes Albert Einstein as saying: "With the disappearance of bees, man would have no more than four years to live." This is alarming to think about as we encounter the global pollination crisis. This research project allows us to explore this topic using an anthropological approach to the study of human-animal relationships.
Multispecies ethnography is a new field of anthropology that tries to bridge human and animal worlds. Using anthropological methods to study human and non-human bodies allows us to have a different outlook on interspecies relationships.
I am grateful to have had this opportunity to develop my research skills and learn participant observation methods in a hands-on way. This experience would not have been possible without the help and guidance of Tanya Richardson, the Anthropology program, and Laurier's Research Office.
See the Laurier Anthropology Facebook page for more photos.