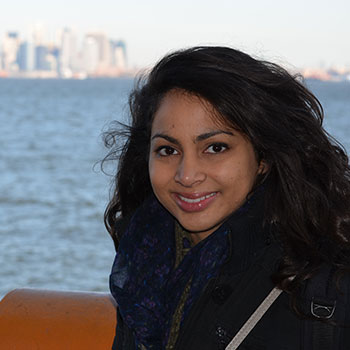 From Global Studies to the Immigration and Refugee Board of Canada
Shafferan Sonneveld, graduate of 2011, has put her Global Studies skills to work as a Research Officer in the Tribunal Services Branch of the Immigration and Refugee Board of Canada. With a degree from GS and experience from post-graduate internships, Sonneveld researches and writes reports on a broad range of topics relating to the social, political, economic, and human rights conditions in the home countries of refugees.
Sonneveld notes how the GS department's encouragement to acquire field experience played a key role in her decision to complete a co-op placement with a local organization supporting immigrant and refugee women. With the department's support, she was also able to do internships at Project Ploughshares and at the South African Human Rights Commission.
So how did she get to where she is now? After her graduation from WLU Sonneveld obtained a Master's degree in International Law from Maastricht University in the Netherlands. During her Master's she interned at organizations such as the Global Human Rights Defence in The Hague and the UNHCR Australia. Her advice to students is to learn languages; "Being multilingual not only gives you access to more international jobs, it also helps in doing research and, most importantly, in building trust with communities…."
Sonneveld's travels abroad began during her undergraduate studies when she went on exchanges to the University of Alicante in Spain and the University of Witwatersrand in South Africa. Her second exchange also included an internship at the South African Human Rights Commission. While abroad, Sonneveld was able to test her language skills, meet other international students, and explore an array of complex social justice issues. She highly recommends students incorporate international study into their degree noting how her experiences helped her "understand a variety of human rights issues in a more contextualized manner."
Sonneveld credits the hands-on approach of the Global Studies program as fundamental element of her current work with refugees. Sonneveld reflects: "A Global Studies degree is as colourful and dynamic as you choose to make it – the Global Studies Department is fully supportive of its students[,] and its faculty and staff are incredibly approachable in guiding students along their undergraduate journey!"