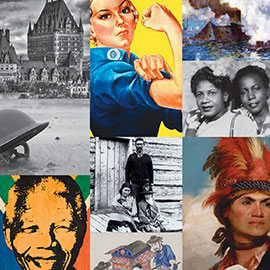 Bright job prospects for History graduates
Over the past few years the History Department has hosted a Facebook page, managed by Associate Professor Amy Milne-Smith and Associate Professor Dana Weiner, where we provide information of interest aimed especially at our History majors and alumni.
For example, in April we posted Paul B. Sturtevant's article "History is not a useless major: fighting myths with data," in Perspectives on History, the news magazine of the American Historical Association. Here are some excerpts from that article:
"Over the past 20 years, warnings from a variety of sources — from career counsellors to administrators to government officials — have convinced many prospective college students (and their parents) that the only safe path to a well-paying job is through a STEM (Science, Technology, Engineering, Math) major. [Yet] members of the academy — including STEM faculty themselves — have repeatedly challenged assertions that majoring in the humanities is useless.… In advising students, talking to parents, and listening to the priorities articulated by state legislatures, we continue to encounter widespread myths about the lives of people who graduate with history BAs. These myths are largely based on misinformation about the prospective lives of those who major in history. They paint life with a degree in history as a wasteland of unemployment and underemployment.… A potent way to combat these myths is with concrete data. Thankfully, a massive repository of data, the American Community Survey (ACS), tells us much about the lives of history majors….  Overall, the ACS data suggest that the picture for history majors is far brighter than critics of the humanities would have you believe…."
In the same vein, we also posted on our Facebook page a blog from The Canadian Historical Association that highlights many cases of diverse career outcomes for History graduates.