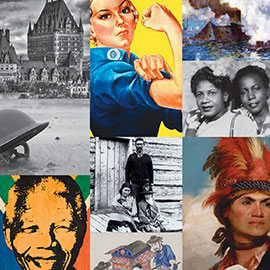 Student RAs in Laurier's History department
Qualified History students at Laurier can gain not only valuable experience but also income working as Research Assistants (RAs) on a faculty member's funding research project. Currently, two such projects are underway with the help of History student RAs:
Associate Professor Amy Milne-Smith received an Insight Development Grant ($64,752) from the Social Science and Humanities Research Council of Canada (SSHRC) in 2015 for her research project "Ripper's Whitechapel: the Digital Humanities and Perceptions of Space in late-Victorian England." Now in the second year of this two-year grant, two History students, Katelyn Leece and Matthew Hargreaves, are working as research assistants on this project, compiling data on crime, poverty, and prostitution from Victorian newspapers. In total, Milne-Smith has hired five History students to work on this project.
Associate Professor Chris Nighman was awarded a SSHRC Insight Development grant in 2016 ($38,372) for the "Chrysostomus Latinus in Iohannem Online (CLIO) Project," and this summer two History student RAs will be hired to transcribe Latin texts from books published in 1470 and 1728 for publication on the project's website.