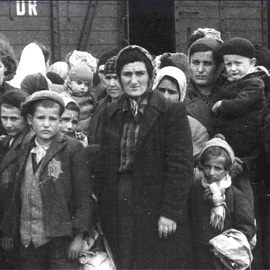 Arts study abroad program
2019 HISTORY TRAVEL COURSE (HI 288/HI 388)
Into that Darkness: Poland, WWII, and the Holocaust
Dates:

May 6-17 in Waterloo
May 18 to June 1 in Poland

Instructor: Dr. Eva Plach (eplach@wlu.ca)
Locations to visit: 

Auschwitz and Birkenau
Oskar Schindler's factory
Krakow's Old Jewish Quarter
Treblinka death camp
Warsaw ghetto
POLIN Museum of the History of Polish Jews
Lublin and the death camp at Belzec
Applications are due no later than noon on Wednesday October 17, 2018.
Please leave application materials in Dr. Plach's mailbox on the fourth floor of DAWB (across from the Political Science main office) or drop off the application in person at DAWB 4-136.
Eligibility criteria:
Must be in year 2, 3 or 4 at the start of the fall 2018 term and must be eligible to take a 200- or 300-level Arts course. Students from both the Waterloo and Brantford campuses are eligible. Students from faculties other than Arts are eligible.
Minimum cumulative GPA of 7.0. Contact Dr. Plach if your GPA is below 7.0.
Application must include:
An (unofficial) copy of transcript.
A brief resume or CV which outlines personal and professional (academic) achievements. Also include co-curricular activities, if relevant (e.g. volunteer experiences, community engagement). 
A one-page statement which outlines reasons for wishing to participate in this program and addresses how this particular learning experience fits into broader academic, personal and professional plans. 
Two letters of reference.  Letters can come from current or past Laurier instructors (TAs are not eligible to write letters of reference for this program) or from employers/supervisors, coaches etc. Reference letters should address the student's current and/or past academic performance and/or general professionalism. Referees may simply email their letters to eplach@wlu.ca  on or before Wed. Oct. 17th. Remember to give referees a week or two to prepare their comments. 
Join the Information Sessions
Learn more about the 2019 history travel course, how to apply and travel subsidies at one of the information sessions:
Friday, Sept. 14, 2018 from noon to 1:20 p.m.
Wednesday, Sept. 19, 2018 from 4 to 5:20 p.m.