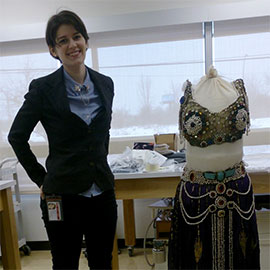 Alumna update: Brenna Cook
Brenna Cook graduated from Laurier in 2010 with an Honours Bachelor of Arts in Medieval Studies and Archeology, and then went on to pursue a Master of Philosophy in Textile Conservation at the University of Glasgow, in Scotland, which included a summer internship at the Musée Galliera in Paris. After graduating from Glasgow in 2012, Brenna returned to Canada to take up internships in Kingston and Ottawa, the latter at the Canadian Conservation Institute in Ottawa, where she subsequently held a two-year fellowship. Last year she was hired by the Royal Alberta Museum in Edmonton, Alberta, where she currently holds the position of Assistant Conservator: Textiles.
"It's not such a great leap of logic to go from studying the medieval period to working in a museum, but my role as a textile conservator requires a unique blend of art history, chemistry and manual skills with a needle and thread," said Cook. "The interdisciplinary nature of the Medieval Studies program at Laurier was an exceptional starting point for training in this career. Pursuing a Medieval Studies degree gave me the universally applicable competencies offered by courses in the Faculty of Arts from which I gained critical thinking skills and a lens with which to examine and research.
"The structure of the Medieval Studies program provided me with the opportunity to take courses from a wide variety of departments, in the process exposing me to experts in many fields and their different perspectives and approaches to research. I was given opportunities to study and write about material culture, the flexibility in scheduling to squeeze in those chemistry courses, and even, with the encouragement of the excellent teaching staff, put my skills with a needle and thread to good use for a creative final paper. I cannot recommend the faculty in this program highly enough. They were key to my overwhelmingly positive experience and gave me the encouragement and support to pursue graduate studies overseas. I could not have done it without them!"
We wish Brenna all the best luck in this position and in all her future endeavours!